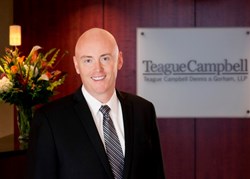 Raleigh, North Carolina (PRWEB) January 10, 2014
Teague Campbell Dennis & Gorham, LLP is pleased to announce Gregory S. Horner became the firm's newest partner on January 1, 2014. Greg joined Teague Campbell as an associate in 2006 after receiving his J.D. from Campbell University and a Bachelor of Business Administration degree in Accounting from Marshall University. He is a nine year veteran of the United States Army having served in South Korea.
Greg's practice is based in Teague Campbell's Raleigh office and focuses primarily in the area of workers' compensation with an emphasis on mid-sized businesses and local governments.
About Teague Campbell Dennis & Gorham, LLP
Teague Campbell Dennis & Gorham, LLP is a Raleigh, NC based law firm that assists and defends employers, business owners and insurers with workers' compensation claims, employment disputes, accident and injury claims, and contract and general business law issues. As a dedicated defense firm, Teague Campbell is able to provide a more personalized service that is not often found in larger, more generalized firms. In addition, the firm remains on the cutting edge of North Carolina appellate law, having appeared as counsel of record in many of the landmark decisions that have defined the basic tenets of North Carolina law as it relates to the areas of civil litigation and workers' compensation.
Teague Campbell and its attorneys have won numerous awards and have been named as industry leaders. The firm's excellence in advocacy, ethics and integrity has led to its selection as a member of the Claims & Litigation Management Alliance and its acceptance into the International Society of Primerus Law Firms. In addition, Teague Campbell was chosen to be, and remains, the sole North Carolina firm in the National Workers' Compensation Defense Network.