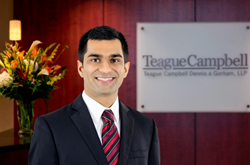 Raleigh, North Carolina (PRWEB) May 07, 2014
Teague Campbell is pleased to announce associate Kaushal A. Amin has joined their Raleigh office.
Kaushal graduated from Emory University with a Bachelors of Arts in Political Science and Economics. He received his Juris Doctor from the University of North Carolina School of Law.
While in law school, Kaushal served as both a staff writer and the Managing Editor of the North Carolina Journal of Law & Technology. He also served on the board of the Asian American Law Students Association and was an active volunteer on various pro bono projects. During his third year, he was chosen to participate in the Consumer Financial Transactions Clinic, where he was a zealous advocate for clients who had suffered as a result of unfair or deceptive financial transactions.
Prior to law school, Kaushal worked at a civil litigation firm in Atlanta, GA. He interned at the US Bankruptcy Administrator's office his first summer of law school and worked as a summer associate with Teague Campbell in 2012.
About Teague Campbell Dennis & Gorham, LLP
Teague Campbell Dennis & Gorham, LLP is a Raleigh, NC based law firm that assists and defends employers, business owners and insurers with workers' compensation claims, employment disputes, accident and injury claims, and contract and general business law issues. As a dedicated defense firm, Teague Campbell is able to provide a more personalized service that is not often found in larger, more generalized firms. In addition, the firm remains on the cutting edge of North Carolina appellate law, having appeared as counsel of record in many of the landmark decisions that have defined the basic tenets of North Carolina law as it relates to the areas of civil litigation and workers' compensation.
Teague Campbell is a member of the International Society of Primerus Law Firms.