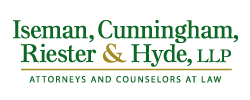 Albany, New York (PRWEB) July 16, 2014
Iseman, Cunningham, Riester & Hyde LLP (ICRH) recently supported John Robinson of Our Ability (http://www.ourability.com) with the organization's recent 12-day bike journey across New York via the Erie Canal and Canal way Trail.
Robinson, born without full arms and legs, has overcome countless obstacles to become a successful businessman, family man and inspirational speaker. He founded Our Ability with his friend Doug Hamlin, a quadriplegic as a result of an accident, to inspire people with disabilities through positive video stories. Robinson mentors, connects and inspires people with disabilities toward education and employment.
In June, the duo boarded their adaptive bicycles along with family and friends for the ambitious 360-mile ride. This is the trek's second year as a way of raising the public's consciousness of the contributions and strides people with disabilities are making. The group rode 30 miles each day with daily celebration programs, coordinated through NYSARC chapters, held at stops along the route.
Our Ability partnered with the New York State Canal Corporation, the Disability Education Forum of New York, Inc., the Erie Canal way National Heritage Corridor, New York State Industries for the Disabled, Inc. (NYSID), and NYSARC, Inc. The journey concluded on the Capitol steps in Albany coinciding with NYSARC's 65th anniversary celebration.
A video blog of the journey can be viewed at this link:
http://www.ourability.com/inspirational-speakers/journey-erie-canal/
About Iseman, Cunningham, Riester & Hyde LLP
Iseman, Cunningham, Riester & Hyde LLP, a law firm with offices in Albany and Poughkeepsie, New York has extensive experience in litigated and transactional matters and represents clients in many areas of law, including health care; insurance; financial; professional liability; construction; retail; municipal; nonprofit and real estate. As experienced counselors, negotiators and litigators, the firm's attorneys advise clients on complex transactions and disputes; bond financings; securities claims; tax planning; creditors' rights including workouts and bankruptcy; professional licensing, and labor and employment, including collective bargaining negotiations.
Iseman, Cunningham, Riester & Hyde LLP is a member of the International Society of Primerus Law Firms.