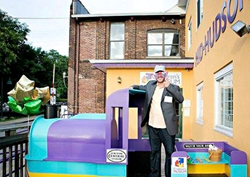 Albany, New York (PRWEB) August 21, 2014
Iseman, Cunningham, Riester & Hyde LLP (ICRH) is pleased to announce Omer Gil, an ICRH associate, took time out for fun in support of the "Power up for Kids" event, an anniversary celebration showcasing the Mid-Hudson Children's Museum and its bold new vision for empowering young children and their families.
The museum, located in Poughkeepsie, caters to children ages 0-6 and keep kids moving, exploring, pretending, collaborating, building and discovering. Its exhibits focus on nature, science, literacy, art, music and community and allow children the opportunity to develop foundational learning skills.
About Iseman, Cunningham, Riester & Hyde LLP
Iseman, Cunningham, Riester & Hyde LLP, a law firm with offices in Albany and Poughkeepsie, New York has extensive experience in litigated and transactional matters and represents clients in many areas of law, including health care; insurance; financial; professional liability; construction; retail; municipal; nonprofit and real estate. As experienced counselors, negotiators and litigators, the firm's attorneys advise clients on complex transactions and disputes; bond financings; securities claims; tax planning; creditors' rights including workouts and bankruptcy; professional licensing, and labor and employment, including collective bargaining negotiations.
Iseman, Cunningham, Riester & Hyde LLP is a member of the International Society of Primerus Law Firms.