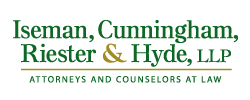 Albany, New York (PRWEB) June 25, 2014
Partners and associates at Iseman, Cunningham, Riester & Hyde LLP (ICRH) have taken part in several charity events this month in support of health care, scholarship and community recognition.
Partner Joshua Mackey joined other golfers in a tournament benefitting the emergency department at Good Samaritan Regional Medical Center in Suffern, a part of the Bon Secours Charity Health System.
ICRH supported "A Community of Excellence Awards," an event raising scholarship funds for The College of St. Rose in Albany. Partner Richard Frankel and of counsel Stacey Goldstein attended the awards luncheon which also recognized exceptional community leaders.
Poughkeepsie attorneys Michelle Almeida and Linda Terner represented the firm at the Northern Dutchess Hospital Foundation Starlight Ball, a gala event held at the Dutchess County Fairgrounds which raised nearly $100,000 for the hospital.
Partner Rick Mitchell took to the links at the Trump National Golf Club in Hopewell Junction for the Northeastern Anesthesia Services Charity Golf Tournament to benefit Putnam Hospital Center, a Health Quest affiliate.
The RN Scholarship Program at Saratoga Hospital is the beneficiary of $120,000 raised through the Saratoga Hospital Golf Invitational held at Saratoga National Golf Club. ICRH was a Silver Sponsor of the event, and partner Rich Frankel and associate Mike Deyo took part in a round of golf at this challenging course.
About Iseman, Cunningham, Riester & Hyde LLP
Iseman, Cunningham, Riester & Hyde LLP, a law firm with offices in Albany and Poughkeepsie, New York, has extensive experience in litigated and transactional matters and represents clients in many industries, including health care, engineering, insurance, financial, construction, municipal, retail, and nonprofit organizations. As experienced counselors, negotiators and litigators, the firm's attorneys work with clients on multimillion-dollar transactions and disputes, and have counseled clients in diverse areas such as bond financings, securities claims, tax planning, professional licensing, labor, and collective bargaining agreements.
Iseman, Cunningham, Riester & Hyde LLP is a member of the International Society of Primerus Law Firms.