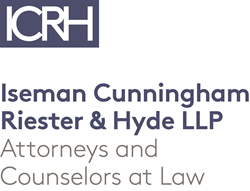 Albany, New York (PRWEB) February 16, 2015
Iseman, Cunningham, Riester & Hyde (ICRH) was a co-sponsor of the New York State Association of Counties Legislative Conference held February 2-4. Despite Winter Storm Linus blanketing the northeast with snow, the Albany event was well attended by county officials from throughout the state participating in educational programs, networking and a celebration of the association's 90th anniversary session.
Richard Graham, of counsel with ICRH and a member of the firm's municipal law group, represented ICRH at its booth in the exhibit hall and at events throughout the three-day conference. Stacey L. Goldstein, of counsel, attended workshops addressing shared services between municipalities and current topics on real property tax administration.
The New York State Association of Counties represents, educates and advocates for New York's counties and the thousands of elected and appointed county officials who serve the public.
About Iseman, Cunningham, Riester & Hyde LLP
Iseman, Cunningham, Riester & Hyde LLP has extensive experience in litigated and transactional matters and represents clients in many areas of law, including health care; insurance; financial; professional liability; construction; retail; municipal; nonprofit and real estate. As experienced counselors, negotiators and litigators, the firm's attorneys advise clients on complex transactions and disputes; bond financings; securities claims; tax planning; creditors' rights including workouts and bankruptcy; professional licensing, and labor and employment, including collective bargaining negotiations.
Iseman, Cunningham, Riester & Hyde LLP is a member of the International Society of Primerus Law Firms.