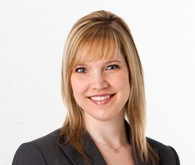 I am honored to become part of the ownership ranks at a firm I have long considered to be my second family.
Oklahoma City, Oklahoma (PRWEB) September 03, 2014
Dunlap Codding is pleased to announce that Emily E. Campbell has been elected to the firm's shareholder ranks. She has been an associate at the firm, an intern during law school, and the first undergraduate technical specialist hired by the firm at the urging of the University of Oklahoma's then Acting Dean of the College of Engineering. Emily has served as the head of the firm's Trademark, Copyright, Internet and E-Commerce Practice Group since 2012, providing strategic counsel to clients. Nick Rouse, the firm's managing shareholder said, "We are proud to welcome Emily to firm ownership. Her election signals the esteem in which we—and the firm's clients—hold her." Campbell said, "I am honored to become part of the ownership ranks at a firm I have long considered to be my second family."
Campbell is registered to practice before the United States Patent and Trademark Office. She graduated from Oklahoma City University School of Law in May 2007. Prior to law school, Campbell received her B.S. in Industrial Engineering in December 2003 from the University of Oklahoma. She currently serves on The University of Oklahoma's College of Engineering Industrial & Systems Engineering Advisory Board and was the inaugural chair of Ignite Oklahoma City, where she continues to serve on the board of directors. She is also a member of the Junior League of Oklahoma City, and as such contributed more than 30 hours of volunteer service in the past year. In her free time, Campbell enjoys spending time with her husband, Robert Campbell, also a practicing attorney, and their two-year-old daughter, Ellie.
About Dunlap Codding
Dunlap Codding P.C. is an Oklahoma City-based law firm serving regional, national and international clients. Established in 1957 as Oklahoma's original intellectual property firm, Dunlap Codding remains the state's largest and most versatile IP boutique. Dunlap Codding represents a substantial number of sophisticated client companies, and for the past 50 years has obtained more patents, trademarks and copyrights than any other firm in the region.
Dunlap Codding is a member of the International Society of Primerus Law Firms.