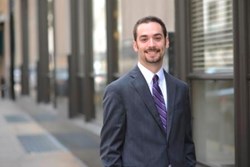 Pittsburgh, PA (PRWEB) November 07, 2013
Rothman Gordon is pleased to announce Noah Jordan has joined the law firm as an associate. Noah will practice with the Labor & Employment group. Before joining the firm, Noah clerked for the firm of Feinstein Doyle Payne & Kravec in its Labor & Employment Department. He also interned with Neighborhood Legal Services and the Office of the Chapter 13 Bankruptcy Trustee for the Western District of Pennsylvania.
Noah received a B.A. in English and U.S. History with distinction from the University of Michigan in 2010. He earned his J.D. from the University of Pittsburgh School of Law in 2013, having served as Topics Editor for the Pitt Journal of Environmental and Public Health Law. Noah is a member of the Allegheny County Bar Association.
During law school, Noah served a two year term as president of the Pitt Legal Income Sharing Foundation, a non-profit organization that raises scholarship funds to encourage law students to serve unpaid public interest internships over the summer, worked as a teaching assistant, and taught a continuing education class in ethics for high school students at the Tree of Life Or L'Simcha Congregation. Noah also worked for Emma Kaufmann Camp in Morgantown, W.Va., serving as a counselor, staff supervisor, and camp operations coordinator over the course of seven summers.
About Rothman Gordon
Rothman Gordon is a Pittsburgh-based law firm that has been advocating its clients' interests since 1954. Rothman Gordon has created a suite of services for individuals, organizations and closely-held and family businesses. Areas of practice include alternative dispute resolution; business and corporate law; commercial real estate; litigation; estate planning and administration; taxation and employee benefits; financing and commercial loans; employment and labor law; employment litigation; and social security disability.
Rothman Gordon is a member of the International Society of Primerus Law Firms.