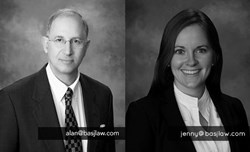 Columbia, South Carolina (PRWEB) January 21, 2014
Barnes Alford is pleased to announce that Alan J. Reyner, L.L.M. in Taxation, has rejoined the firm as a partner effective January 1, 2014.
Mr. Reyner has been affiliated with the firm since its formation in 1983 with the merger of Barnes, Stork, Wolff and Reyner with Alford, Johnson & Salane. Since 1994, he has been of counsel to the firm. Mr. Reyner is a certified specialist in taxation and his practice focuses on the areas of corporate law, tax law, tax controversy matters and estate planning.
On the heels of this great news, Barnes Alford is also pleased to announce that Jennifer I. Waxman has joined the firm as an associate.
Ms. Waxman earned her Juris Doctor magna cum laude from the University of South Carolina School of Law in May 2012, where she received the Albert C. Todd III Estate Planning Award, and her Master of Laws from the University of Florida, Levin College of Law in May 2013. Ms. Waxman is a graduate of West Virginia University, where she earned a B.A. in History. She will practice primarily in the areas of estate planning, taxation, probate law, and corporate law.
About Barnes, Alford, Stork & Johnson, L.L.P.
Barnes, Alford, Stork & Johnson, LLP is a Columbia, South Carolina law firm focusing on civil litigation and business and real estate matters. Representing a broad mix of local, state and national clients, the firm offers a wide range of legal services in banking, construction, real estate, taxation, probate and estate planning. Barnes Alford is a relationship-oriented firm that closely follows the growth and needs of its clients.
Barnes, Alford, Stork & Johnson, LLP is a member of the International Society of Primerus Law Firms.