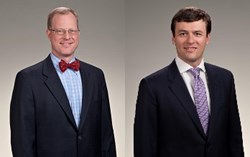 I am confident these two attorneys will use their experience in their respective practices to help litigants resolve disputes and avoid what could be a costly litigation battle
Columbia, South Carolina (PRWEB) January 14, 2014
The South Carolina Supreme Court's Board of Arbitration and Mediator Certification has certified two Collins & Lacy attorneys as Circuit Court Mediators, creating a statewide mediation footprint for the firm. Andrew Cole and Mikell Wyman have both been certified as court mediators.
Andrew Cole's 12-year career at Collins & Lacy has focused in on construction law, as well as defense litigation and appellate advocacy. He has been recognized for his work by being named a Rising Star® by South Carolina Super Lawyers® in both 2012 and 2013.
Mikell Wyman practices in the areas of workers' compensation and family law. His recently- acquired certification comes on the heels of the 2013 regulation making mediation mandatory for workers' compensation claims.
Collins & Lacy now has six mediators within the firm: Jack Griffeth, Stan Lacy, Ellen Adams, Henry McKellar, Andrew Cole, and Mikell Wyman.
"It is with great pride that both Andy and Mikell's recent certification enables our firm to offer mediation services statewide," said Mike Pitts, managing partner of Collins & Lacy. "I am confident these two attorneys will use their experience in their respective practices to help litigants resolve disputes and avoid what could be a costly litigation battle."
About Collins & Lacy, P.C.
Collins & Lacy is a defense litigation firm in South Carolina that delivers valuable legal representation for their clients through solid preparation, thorough execution, and client-oriented service aimed at success. With many offices throughout the state, including Columbia, South Carolina, the firm represents local, regional and national clients in the areas of construction, employment law, hospitality/retail and entertainment law, insurance/bad faith, products liability, professional liability, commercial transportation and workers' compensation. Collins & Lacy is committed to upholding the highest standards for integrity, civility and community service.
Collins & Lacy, P.C. is a member of the International Society of Primerus Law Firms.