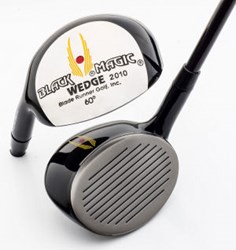 Top New Lob Wedges Designed For Short Game Success
Nationwide (PRWEB) November 03, 2013
Many higher handicap players do not have the confidence to use a 60 degree lob wedge; instead they will try to use a club like a chipper or a 7 iron in situations that they will have little chance of getting the ball close to the pin with a club of that low of loft. Some of the best golf wedge reviews on the short game will show the vast advantages a lob wedge can offer. Now with the new technology in the Black Magic Hybrid lob wedge there is no reason any player should fear using this wedge.
The reason the new lob wedges are so much easier to use for those short shots that seem next to impossible like flop shots from tight lies to those dreaded deep bunker shots all stem from their patent design. This club has a zero degree bounce angle at impact along with a sharp leading edge that wraps entirely around the heel of the club which eliminates the chance of shank shots. The design of these wedges will get under the ball quickly for fast lift and great spin.
Flop shots off of hardpan tight lies can seem impossible for some but with the Black Magic zero degree bounce angle all that is necessary is to have the leading edge strike the turf a couple of inches behind the ball with your hands leading the clubhead. Players will be amazed at how fast the ball will get up in a short distance off hardpan lies.
Utilizing this new type of lob wedge, bunker shots create less stress for the player. With standard wedges, you want to enter the sand approximately 2-1/2 inches behind the ball and take out more sand in front of the ball then behind it. This wedge works perfect for bunker shots when a player enters the sand 6 to 8 Inches behind the ball with their hands leading the clubhead. This helps immensely in making that complete follow through to the target.
Most players will miss more greens in regulations, then they hit, which makes having the right tools for those difficult short shots at a premium. Players who struggle with standard types of wedges will be amazed at what the new technology in the Black Magic Hybrid Wedges can do for their game.
About:
Blade Runner Golf, Inc. is a company devoted to the notion that a golfer's short game can make all the difference in his or her final score—but you can take your short game to the next level only if you have the right equipment. Black Magic's hybrid wedges Conform to USGA rules, but also helps golf enthusiasts find new precision and power as they make their way onto the putting green. Black Magic Wedge can be accessed on the web at: http://www.blackmagicwedge.com
Contact:
Black Magic Wedge
2519 McMullen Booth Rd
Suite 510-129
Clearwater, FL 33761
Phone 727-726-5737
Toll Free 877-799-6099