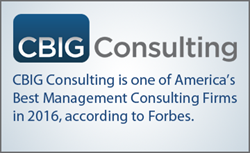 Our focus on strategic and technical innovation, combined with our results-oriented approach, is clearly making an impact in the marketplace
Chicago, IL (PRWEB) May 11, 2016
CBIG Consulting, a global management consultancy specializing in business intelligence and Big Data analytics, counted itself among other notable firms receiving top honors in Forbes' research report of "America's Best Management Consulting Firms 2016."
CBIG co-founder John Onder said the CBIG Consulting team was especially delighted about this honor because it's based on recommendations by recent clients as well as industry peers. "We're truly honored to be included in the Forbes list. Our focus on strategic and technical innovation, combined with our results-oriented approach, is clearly making an impact in the marketplace. We couldn't be more pleased about the recognition we've received and where our growing practice is headed."
Collaborating with online statistics provider Statista, Forbes explained it tabulated results from not one but two online survey data sets. The first query included over 7,200 partners and project managers from management consultancies who were tasked with compiling a list of competing consultants other than themselves. The second survey included over 1,300 client executives who have worked with these firms in the last four years. These client groups were asked which management consultants they would recommend based on their industry sector, as well as the type of services provided. Forbes' analysis broke out the ultimate findings and placed CBIG Consulting in the Leading Data Analytics & Big Data category.
About CBIG Consulting:
CBIG Consulting is an international team of experts in Business Intelligence, Big Data Analytics, Data Warehousing, and Cloud-based Analytics platforms. Named a top BI and Big Data consulting firm by independent research organizations and publications, CBIG's management consultants, business analysts, data architects and engineers are seasoned professionals dedicated to the analytics space. CBIG works with global enterprises, mid-size businesses, and non-profit organizations in solving mission-critical reporting and analytical needs. CBIG is headquartered in the Chicago area and has additional offices in San Francisco, Boston, Denver, Austin, Raleigh, and Seattle in the U.S.; Sydney, Melbourne, Auckland and Singapore serving the Asia-Pacific region; and London serving the EMEA region. For more information, please visit http://www.cbigconsulting.com.