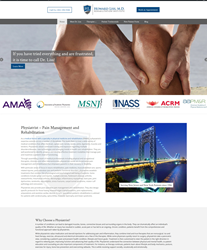 It is a real honor to be named a Castle Connolly's Top Doctor. My inclusion in this reputable database amongst a superb group of physicians is truly humbling. says Dr. Howard Liss.
Englewood, NJ (PRWEB) October 05, 2017
Dr. Howard Liss is a pioneering physiatrist who has served patients in New Jersey and New York since 1986. As a medical doctor with a specialty in physical medicine and rehabilitation (PM&R), Dr. Liss treats patients suffering from pain and injuries by using his widespread expertise in medical disciplines as well as his specialized approach to patient care. He assumes a multidisciplinary approach as a physiatrist and values the importance of how a patient's physical well-being and physiological wellness contributes to mental wellness. Dr. Liss is qualified to treat numerous medical conditions that affect the spine, nerves, bones, joints, ligaments, muscles, tendons, brain and spinal cord. He utilizes his training and experience in orthopedic medicine, neurology and rheumatology.
The expansive expertise and unique multidisciplinary approach of Dr. Howard Liss has certainly contributed to his recent acclaim of being named a 2017 "Regional Top Doctor" as a New Jersey physiatrist. Castle Connolly selects the nation's "Top Doctors" based on a peer nomination process and thorough review by a physician-led research team. Dr. Liss's medical training, board certifications, achievements, and other credentials were taken into consideration for this award. Dr. Liss was one of 100,000 Castle Connolly regional nominees competing across several medical specialties. As a "Top Doctor" winner, Dr. Liss will be featured in numerous media outlets and reputable publications, including the America's Top Doctors® book, online directories, various magazines and multiple national media sources.
Castle Connolly is considered the nation's most trusted source for finding reputable physician specialists in select regions. Out of over 1 million physicians in the United States, only an elite few are named a Castle Connolly Top Doctor.
"It is a real honor to be named a Castle Connolly's Top Doctor. My inclusion in this reputable database amongst a superb group of physicians is truly humbling." says Dr. Howard Liss.
More About Dr. Howard Liss:
Dr. Liss began his residency at Columbia in 1981 and has since pioneered the concept of a medical office combining the practice of physiatry with a fully attuned, integrated staff of physical therapists. Dr. Liss is the founder and director of Englewood Hospital Rehabilitation Grand Rounds and the Northern Valley Rehabilitation Society. He has also been the chairman of courses on physical diagnosis at the annual meeting of the American Academy of PM&R and national courses on lumbar disc and rotator cuff disorders, and has authored medical textbook chapters on lumbar disc disease. He has always made sure to institute academic meetings as well as patient discussions as an integral part of his private practice.
Dr. Liss sees patients in multiple office locations, including Englewood and Fort Lee, New Jersey as well as Riverdale, New York. He is currently building a comprehensive rehabilitation practice in Tenafly, New Jersey. For more information about the services offered by Dr. Howard Liss or to schedule an appointment, please visit http://www.lissrehab.com or call (201) 390-9200.