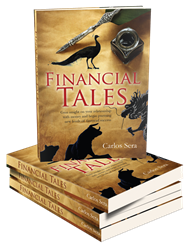 Want to Gain Insight on Your Relationship with Money?
Baltimore, Maryland (PRWEB) November 16, 2015
Recently released personal finance book Financial Tales is the first volume in a series planned by investment manager and blog author Carlos Sera. The series is based on the blog Sera started in 2008 with his son and business partner, Carl Sera, FinancialTales.com, where he explains the world of money and behavior through storytelling. The first book features 61 carefully selected tales on personal finance that will help anyone—from teenagers to investment advisors—position themselves or their clients for greater financial success, including:

Developing a sustainable relationship with money
Understanding financial markets
Managing your investments intelligently and by yourself
Identifying and hiring expert advisors if you choose to work with one
Working productively with your expert advisor
Creating a game winning financial team
Retiring intelligently and with abundance
Preparing for the unexpected
Learning accountability and developing good habits
Picking the right college and insurance policy
Overcoming the biggest obstacle to investment success
Learn to say no when you want to say yes
"When I'm asked how long it took me to write this book my answer is, 'all my life.' My goal is to demystify a complex topic and provide access to the same investment and personal finance knowledge previously reserved for family, close friends, and clients," said Sera.
As a first-generation Cuban American, Sera's investment philosophy has deep roots.
"Every lesson I learned growing up was from a myth, story, parable, or tale. Over my three decades of experience in the industry I realized I had a moral obligation to pass along my lessons learned. I teach these lessons by telling stories. My goal is to make it as easy as possible for you to understand your finances and answer both the obvious and the complicated questions surrounding money."
Financial Tales is now available for purchase on Amazon.com, with the second version expected to release in 2017, offering a "How To" including more complex financial modeling and figures.
About the Author
Carlos Sera, Author of Financial Tales grew up outside Baltimore, Maryland. He is a first generation Cuban American and graduated from Johns Hopkins University then earned his MBA in Finance and Applied Economics from the Simon School of Business at the University of Rochester. He is the founder of Sera Capital Management, a Registered Investment Advisor Representative, Trader, and Author of the FinancialTales.com blog where he explains the world of money and behavior through storytelling. Carlos has worked with hundreds of clients over three decades and shares his experiences in his compelling book, Financial Tales.