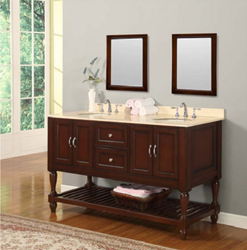 Many large retrailers are actually supplied by smaller companies, meaning that in many cases identical or nearly identical vanities are available from other sources, often at a lower price.
(PRWEB) November 06, 2013
HomeThangs.com – the Online Home Improvement Store, has made their goal to deliver the right product to the consumer. With that in mind, shopping and home design tips, as well as special product selections are being introduced.
It has become increasingly common to plan and purchase all the parts of a major bathroom renovation online. There's a vast selection of items on the interent, moreso than in any store, but at the same time, there's so much out there that it can be a little overwhelming, and tempting to stick with familiar brand names. Often, though, brand recognition comes with a hefty price tag, and many products – like bathroom vanities – vary widely in price and quality from one brand to the next, which means many less well known brands offer much better deals without sacrificing quality. HomeThangs.com has introduced a guide to a few reasons why it's worth considering buying from an unfamiliar name.
There are so many bathroom vanities out there that many manufacturers produce vanities in styles that are very similar. But any two vanities that look the same can be made of totally different materials, and a recognizable brand name doesn't automatically ensure that those materials are high quality. From an online picture, it can be difficult to distinguish between MDF and solid wood, but the difference in quality is substantial.
As a rule of thumb, the descriptions of higher quality vanities will be more detailed and more specific (i.e., naming specifically which parts of the vanity are made out of what, or what environmental regulations their products adhere to), while lower quality ones will be more vague. Beware, though, of flowery language – many very well-known brands will write extensive, fluffy descriptions of their products that ultimately say little about the actual quality of the item.
Not all designs from all big brand names have one-to-one equivalents or superior alternatives from lesser known companies, but many large retailers are actually supplied by smaller companies, meaning that in many cases there are actually identical or nearly identical vanities available from other sources, often at a lower price. So it's worth choosing a few favorite designs, then searching to see if something equivalent is offered elsewhere.
Of course, paying more for a brand name isn't just about paying for the name – it's about paying for the familiarity and dependability of that name. Shopping smaller brands should also include vetting their reputation and – most importantly – their policies, specifically with regards to shipping, returns, and exchanges. That said, many smaller companies are able to offer more personalized customer service throughout the purchasing process, and are often more willing and able than larger companies to customize and bundle orders.
For a few examples of how smaller brands like Direct Vanity stand up to their big name competitors, check out the full article here.
HomeThangs.com is not only a home improvement superstore, it also provides expert design tips and a comprehensive shopping guide, taking the ideas from professional interior designers, and offering tips to the consumers on how to pick the products to best suit their needs.