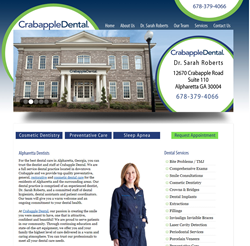 Knowing my patients are satisfied with their results is the highest accolade I could receive. I am honored to be named a Top Rated Dentist and will continue to pursue excellence within my Alpharetta practice, " says Dr. Roberts
Atlanta, GA (PRWEB) April 18, 2016
Superior reviews and five-star ratings from her patients have earned Dr. Sarah Roberts the honorable recognition of being a Top Rated Alpharetta Dentist from Find Local Doctors. Dr. Roberts is an esteemed and highly-awarded cosmetic dentist from Crabapple Dental. Her practice is dedicated to providing state-of-the-art dentistry with a comfortable touch. With her passion to adopt the latest techniques and technology in modern dentistry, Dr. Roberts proudly offers the most advanced restorative and cosmetic procedures available. In fact, she is distinguished for her ability to place minimally invasive dental implants with higher precision and faster healing.
Dr. Roberts has trained with some of the world's most prominent cosmetic dental specialists. Whether a patient needs a full-mouth reconstruction using dental implants or wants a custom crown in a single office visit, Dr. Roberts is equipped with the experience, skill and talent it takes to create beautiful, long-lasting smiles.
"Knowing my patients are satisfied with their results is the highest accolade I could receive. I am honored to be named a Top Rated Dentist and will continue to pursue excellence within my Alpharetta practice, " says Dr. Roberts.
More About Dr. Sarah Roberts:
Dr. Sarah Roberts earned her Doctor of Dental Medicine degree at the University of Louisville and her Pharmacy undergraduate degree from Purdue University. Dr. Roberts has invested in notable continuing education hours with a focus in cosmetic and restorative dentistry. She has completed advanced classes such as an esthetic continuum at the Nash Institute and has received a prestigious Fellowship from the Las Vegas Institute for Advanced Dental Studies. For multiple years, Dr. Robert's practice was voted best dental practice in South Forsyth & North Fulton, and voted among "America's Top Dentists" since 2009. Crabapple Dental offers preventative, restorative and cosmetic dental services as well as complete implant dentistry.
For more information on the services offered by Dr. Roberts at Crabapple Dental, visit crabappledental.com or contact her office in Alpharetta directly at (678) 319-0123.