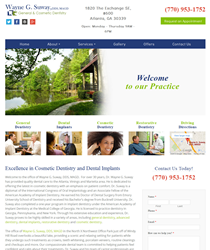 I am honored to be named a Top Rated Dentist for Atlanta. The satisfaction and praise of my patients is an accomplishment that I do not take lightly - says Dr. Suway
Atlanta, GA (PRWEB) April 19, 2016
High accolades from his patients recently earned Dr. Wayne Suway the honor of being a Top Rated Atlanta Dentist from Find Local Doctors. Find Local Doctors was developed to be a high quality and easily accessible online directory to help consumers find the best physicians and dentists in their area by featuring actual patient reviews from multiple credible sources. Dr. Suway's success is highlighted by his expertise in cosmetic and implant dentistry. He carries over 30 years of practice experience and has earn respected recognitions and elite credentials in his field. Dr. Suway is a diplomat of the International Congress of Oral Implantology, an Associate Fellow of the American Academy of Implant Dentistry and earned the prestigious honor of a Master of the Academy of General Dentistry. The office of Wayne G. Suway, DDS, MAGD is located at 1820 The Exchange SE, #600 in Atlanta, GA 30339.
In his Atlanta practice, Dr. Suway shows a dedication to provide the latest that modern dentistry has to offer. His technology includes the TRIOS Intraoral Scanner, which allows dentists to take high definition, three-dimensional images and create a new crown, denture, or dental implant without the need for messy impressions. Dr. Suway is primarily known for his distinguished ability to perform all phases of dental implants in one location. This includes the surgical placement and restoration of the dental implant as well as implant repairs and long-term care.
"I am honored to be named a Top Rated Dentist for Atlanta. The satisfaction and praise of my patients is an accomplishment that I do not take lightly, " says Dr. Suway. Patients continue to choose Dr. Suway as a knowledgeable, caring and talented dentist who can replace their missing teeth in a way that feels, looks and functions most like natural teeth.
More About Dr. Wayne G. Suway:
Dr. Suway earned his Doctor of Dental Surgery from Emory University School of Dentistry and received his Bachelor's degree from Bucknell University. Dr. Suway also completed a one-year program in implant dentistry under the American Academy of Implant Dentistry at the Medical College of Georgia. In 1999, Dr. Suway was recognized as a Master of the Academy of General Dentistry. Dr. Suway combines more than three decades of experience with extensive training and over 1,000 continuing education hours to provide patients with the highest quality of care possible. The office of Wayne G. Suway, DDS, MAGD offers general, restorative and cosmetic dental services as well as complete implant dentistry and advanced treatments for sleep apnea and TMJ.
For more information on the services offered by Dr. Wayne G. Suway, visit http://www.doctorwaynesuway.com or contact his office in Atlanta directly at (770) 953-1752.