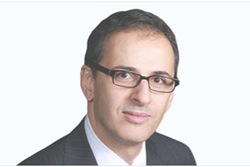 "I am delighted to be rated so highly by my patients. Knowing that my patients are pleased with their results is the highest form of achievement for me," says Dr. Khosh
New York, NY (PRWEB) April 13, 2016
Based on high patient ratings and outstanding patient reviews, Find Local Doctors has recognized Dr. Maurice Khosh as a Manhattan Top Rated Plastic Surgeon for 2015 in the field of facial plastic surgery. Dr. Khosh carries dual board certifications in facial plastic surgery and ENT surgery as well as twenty years of practice experience. He is a highly respected plastic surgeon who has earned multiple prestigious awards for his advanced technique and excellent results in cosmetic procedures such as facelift, rhinoplasty and blepharoplasty. Additionally, Dr. Khosh offers a full complement of reconstructive procedures to address functional, trauma or cancer related defects of the face, nose, or the scalp. In fact, his distinguished ability to treat functional breathing and aesthetic concerns of the nose sets him apart as one of the country's most elite plastic surgeons.
Dr. Khosh has a specialty in revision rhinoplasty utilizing rib cartilage grafts, one of the most complex and surgically demanding plastic surgical procedures. Patients who seek revision rhinoplasty often complain of twisted, pinched, or collapsed appearance of the nose. These aesthetic concerns are typically associated with breathing difficulty. Cartilage grafting can restore the nasal contours and enhance breathing. Dr. Khosh is one of few plastic surgeons who is skilled enough to offer rib cartilage as a viable source of grafting material. Rib cartilage is ideal for revision rhinoplasty cases where septal cartilage is missing or extensive cartilage grafting is needed. During the procedure, rib cartilage is harvested through a small inconspicuous incision below the breast, leaving no visible scar. The cartilage is then precisely contoured before placement inside the nose.
Based on the number of superior patient reviews found on Find Local Doctors, Dr. Khosh's patients clearly recognize his excellence. "I am delighted to be rated so highly by my patients. Knowing that my patients are pleased with their results is the highest form of achievement for me," says Dr. Khosh.
More About Dr. Maurice M. Khosh:
Dr. Maurice Khosh is a nationally recognized dual board certified facial plastic surgeon practicing in Manhattan, NY. Beyond his continued appearance on the Castle Connolly's Top Doctor™ list, he is the recipient of the Patients' Choice Award. Dr. Khosh is the past president of the NY Facial Plastic Surgery Society, the director of facial plastic surgery service at Mt. Sinai West in NYC, and was the former Director of Facial Plastic Surgery at Columbia University. Dr. Khosh's dedication to the highest level of patient care and intricate expertise in his field has gained him renowned respect as one of the top plastic and reconstructive surgeons in the country. For more information on the services offered by Dr. Khosh, visit his website at http://www.facedoctornyc.com or contact his office in Manhattan directly at (212) 339-9988.