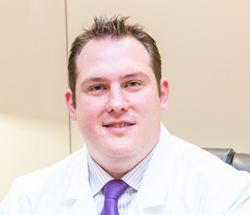 We work hard to create a positive and rewarding experience for each patient. This recognition is one I highly value because it confirms that we've accomplished this, says Dr. Schwarz
O'Fallon, MO (PRWEB) May 25, 2016
Dr. Travis Schwarz is an experienced dentist who leads Riverheart Family Dentistry, located in Woodlawn Plaza at 8618 Mexico Road, O'Fallon, MO 63366. He serves patients of all ages with a full menu of dental services, including preventative, restorative and cosmetic treatments. Dr. Schwarz's success is reflected in the superior patient reviews that he has consistently earned during his practice experience. It was these five-star ratings from his actual patients that garnered him the 2015 Top Rated O'Fallon Dentist badge by Find Local Doctors. Find Local Doctors is an online directory that gives consumers easy access to multiple credible patient review sources, allowing them to connect with local physicians and dentists who have the skillset they need as well as a strong reputation within the community.
With features such as that latest dental technology and modern patient amenities, Riverheart Family Dentistry is able to provide an environment that respects patient comfort at every step. To make dental care more accessible and convenient to O'Fallon families, they also offer extended office hours, family block scheduling as well as a variety of financing options.
"We work hard to create a positive and rewarding experience for each patient. This recognition is one I highly value because it confirms that we've accomplished this," says Dr. Schwarz. Dr. Schwarz acknowledges that no two smiles are alike, and each patient has unique needs. Therefore, he is passionate about patient-centered care and customized treatment plans. His O'Fallon dental practice implements this in all of their dental services, from pediatric dental cleanings and gum disease therapy to smile makeovers and dental implants.
More About Travis Schwarz, DMD:
Dr. Travis Schwarz graduated from the University of Illinois Urbana-Champaign and earned his Doctor of Dental Medicine Degree (D.M.D) from Southern Illinois University School of Dental Medicine. Dr. Schwarz is equipped to perform general, restorative, and cosmetic dentistry. He takes great pride in promoting an anxiety-free experience. His commitment to continuing education gives patients the valued assurance that they will receive the highest level of care, both today and tomorrow.
For more information about Travis Schwarz, DMD or the services offered at Riverheart Family Dentistry in O'Fallon, please visit riverheartfamilydentistry.com or call (636) 205-4045.