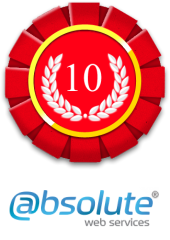 Miami, Florida (PRWEB) February 27, 2014
10 Best SEO is a rapidly growing portal for online marketing companies and SEO service seekers to come together. In their inaugural awards, they have named top performers from around the country, and Absolute Web Services has ranked #3.
The Miami, Florida creative web design and Internet marketing firm Absolute Web Services earned the #3 spot on the 10 Best SEO Agencies list compiled by 10 Best SEO, a San Francisco, California company that ranks the best performers in online marketing using a number of criteria. This ranking was for the month of February 2014.
Search Engine Optimization, or SEO, is an important part of a website's success. The higher a website appears users search-engine results generally, the more hits a website gets. Therefore, a website gets better results—more views or more sales— when it appears on the first or second page of a user's screen rather than on the 10th or 15th page.
The Absolute Web Services (AWS) team produces good results for unpaid (or organic) Web searches, those rankings that businesses and organizations do not pay search engines to get. Even before beginning to build a website, AWS does a comprehensive keyword analysis for a business in order to produce a website or marketing campaign that will produce the best results. Users of search engines type in keywords, and AWS finds out which keywords they are likely to use and incorporates those keywords into its website strategies.
Absolute Web Services was founded in 1999. Its services include design, programming, marketing and maintenance. AWS aims to make the websites it creates culminate in business growth. Before building a website, the firm carefully studies the industry sector a business works in and gains a complete knowledge of the products/services and goals of a specific business.
Topping the Best Search Engine Optimization Firms list was 352 Media Group of Newberry, Florida. Yodle of New York, New York captured the second spot.