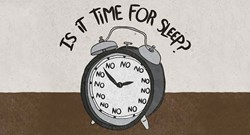 Denver, CO (PRWEB) January 25, 2014
Getting sleep is typically a simple, automatic process that requires little thought, however there are several things that can disrupt rest and making falling asleep difficult. Around 30% to 40% of adults report symptoms of insomnia in a given year, according to the National Institutes of Health. Some of the factors that can contribute to sleep problems are controllable and have fairly simple solutions that can be helpful to know.
In the latest article from blog What's The Best Bed, titled "Top Reasons You Can't Fall Asleep And Their Simple Solutions", ten common problems are addressed along with tips for getting back on track. WTBB highlights the importance of prioritizing rest and getting an adequate amount of quality sleep, but also recommends not ruminating on sleep difficulties which can generate greater anxiety. The article advises people with persistent rest issues or who suspect a sleep disorder to consult with a physician, but offers several tips for those experiencing the occasional restless night or discomfort.
The potential "sleep stealers" highlighted by WTBB involve environmental factors, habits, and stress. For each of the ten reasons, the issue is explained in detail and specific solutions are given based on research and sleep hygiene recommendations.
Readers might start by considering their bedrooms, where temperature, light, and sound all influence sleep quality. Barring environmental influences, the article also states that certain dietary habits, a variety of stress sources, and inconsistent schedules also wreak havoc on rest. Disruptive bed mates have also been shown to affect rest quality for couples, and an uncomfortable mattress can cause pain and restlessness.
What's The Best Bed's article offers a variety of useful suggestions for those looking to improve rest and fall asleep easier, information that can be helpful to know whether currently experiencing difficulty or not. The website also offers several resources for mattress shopping and research, and invites readers to participate in a sleep poll.
WhatsTheBestBed.org is a mattress blog dedicated to helping shoppers figure out which is the best bed for their needs. Through easy-to-read, informative posts readers can access information on top brands and a variety of mattress types provided by unbiased, knowledgeable sources. From professional assessments and consumer reviews to coverage of the latest mattress industry headlines, the website provides a wealth of resources to consumers researching beds.