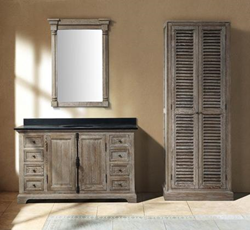 The top ten bathroom vanity brands are popular for a reason - whether it's quality, beauty, affordability, or some combination of the three.
(PRWEB) November 18, 2013
HomeThangs.com – the Online Home Improvement Store has made their goal to deliver the right product to the consumer. With that in mind, shopping and home design tips, as well as special product selections are being introduced.
For first time bathroom remodelers, it can be difficult to know where to start, especially when it comes to buying a bathroom vanity. With so many brands out there, even getting started can be positively overwhelming. HomeThangs.com has introduced a guide to a few of the most popular bathroom vanity brands, as well as a brief introduction to each.
James Martin Furniture offers high quality, solid wood bathroom vanities with beautiful, natural wood finishes. Many of their vanities are an ideal size for a master bathroom, and include marble or travertine vanity tops, matching mirrors, and storage cabinets.
Sagehill Designs' bathroom vanity collections include not just a single vanity with an included stone vanity top, but multiple vanities in the same style in different sizes, as well as a matching mirror and storage cabinet. Sagehill's bathroom vanities are all more or less contemporary in style, with an overall sense of simplicity that creates a comfortable, casual look.
Silkroad Exclusive specializes in flexibility in terms of both style and size, offering many vanities that fall outside and in between the standard vanity widths. That means their vanities work for bathrooms that are especially large or small, or just non-standard spaces. Silkroad also has double vanities that are much narrower than average for small master bathrooms, and sprawling, easy to install modular double vanities for very large bathrooms.
Legion Furniture offers an extensive collection of vanities in every size, shape, style, and color. Their sheer variety is one of their greatest selling points, but their prices are also impressively affordable, especially considering that nearly all their vanities include a vanity top and sink, and often a mirror, storage cabinets, and/or faucet, too.
Hardware Resources specializes in antique and traditional bathroom vanities with a luxury look and feel. What they offer that many brands don't is that many of their stone vanity tops come standard with an 8″ spread drilling rather than the more conventional 4″. This allows the vanity to accommodate a luxury faucet without having to purchase a custom stone top.
Virtu USA specializes in storage. Nearly all of their contemporary style vanities come paired with mirrors that feature built in shelf or cabinet storage, and for every wood finish, they offer an impressive selection of storage cabinets in different sizes, shapes, and installation types, making it incredibly easy to customize the complete storage package.
Xylem's products are defined by artistry and innovation. Their vanities have a posh, sophisticated polish, with a few really unique, stand-out statement pieces. They also offer highly customizable designs; in more traditional styles, that means offering a variety of additional storage cabinets, while their most modern styles are modular in design, so the shape of the final cabinet can be completely custom designed and configured.
Vigo Industries specializes in highly modern bathroom vanities, with sleek, simple, sophisticated designs. Many of the models are wall mounted and have a simple, minimal aesthetic that makes them look crisp and clean, and the bulk of their vanities fall in the 24″ and under range. Many of their vanities include porcelain vanity tops with integrated sinks for a smooth, finished look.
Design Element is another bathroom vanity brand that strongly emphasizes modern design, but their focus is primarily on larger bathrooms, with almost their entire collection topping the 36″ mark. Their simple, minimalist aesthetic again results in vanities that are packed full of unique storage features, accented by simple yet striking contemporary hardware, and often elegant vessel sinks or tempered glass accents.
RonBow combines a casual look with a classy feel by strategically simplifying traditional designs, leaving just the right amount of old world charm without being too ornate for a contemporary bathroom. RonBow puts a strong emphasis on smart storage, with shelves built into their cabinets, sliding rather than swing doors, and lots and lots of drawers.
For a more detailed look at all of these brands, check out the full article here.
HomeThangs.com is not only a home improvement superstore, it also provides expert design tips and a comprehensive shopping guide, taking the ideas from professional interior designers, and offering tips to the consumers on how to pick the products to best suit their needs.