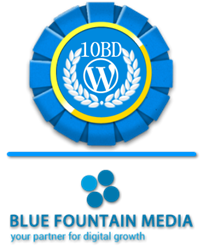 New York City, New York (PRWEB) April 21, 2014
The established and well-known web design awards organization, 10 Best Design, has released their anticipated list of Top WordPress Design award recipients. This award is presented to design firms that exhibit a level of originality and professionalism in their portfolios that are seen as above the rest, and are perceived as thought leaders in their niche.
10 Best Design's lists include an array of web design oriented niches that rank firms in recognition of their performance and appeal in their respective niche. These lists are respected among those in the industry and it is considered an honor to be included, or even better, to be considered the best among your competitors.
Achieving the highest honor of the best Wordpress firms is Blue Fountain Media, one of the top Wordpress web design companies in the country. Blue Fountain Media is based in New York, in the heart of Manhattan, with a team of passionate designers and Wordpress web design innovators that offer unique solutions to their clients. Just a few examples among their range of services are custom theme design, mobile optimization, content management solutions based on Wordpress, and just about anything else involving Wordpress design.
With the release of these awards from 10 Best Design, they are validating Blue Fountain Media's reputation as belonging on one's shortlist of top WP design firms. This is important because 10 Best Design judges on many more aspects of a Wordpress design firm than just the aesthetics of their final products. They look for what makes the best Wordpress firms stand out from a crowded field options for the consumer. These aspects may include: customer retention, positive word of mouth, professionalism during customer service and sales interaction, and of course value, among several other aspects. When one is in the market for a design firm, these lists are a great way to start looking for the best firm that will offer the best experience.
Also included among the recipients of Top WordPress Web Design Companies are San Francisco based, Shiri Design Studio, at the number two spot, and CLiKZY Creative, based in Virginia, at the third position.