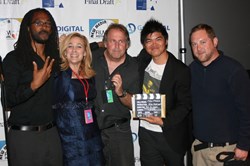 Hollywood CA (PRWEB) August 27, 2013
New Media Film Festival is an annual film festival in Los Angeles CA where each entry is considered for screening, competition ($45k in awards) and distribution. Submissions are accepted year round, though there are deadlines. The first one - Early Bird Deadline - is the 3rd of September.
The top five reasons why you should rise early & submit by the 3rd of September:
1. Diversity & Quality. There are 19 categories in which one can submit their entry. Find the one best suited for your talents. 3D, Animation, Apps, Digital Comics, Documentary, Feature Length, LGBT, Machinima, Mobile/Tablet, Music Video, New Media, Script, Shorts, Shot on Red, Sniplers, SRC, STEAM, Trailers and Web Series. "Makes the cutting edge accessible." - Huffington Post
2. Submit Early & Save: "Worth the entry fee" - Movie Maker Magazine. The first deadline has the least expensive entry fee. Save money by submitting early and you have until May 1st 2014 to send your content in. Bask in the savings while your finishing your content and preparing for the festival circuit.
3. Awards & Judges: The Judges are from Pixar, Fox and other industry leaders. Each Winning category receives a New Media Film Festival award, an opportunity for distribution deals and other prizes. The earlier you submit to a film festival, the more lead time before a festival that you are logged, reviewed and discussed amongst industry professionals.
4. Press & Extra Time: You have almost 7 months after the early bird deadline of September 3rd to submit another project. Filmmaker Lily Baldwin - Snippler Award Winner - screened 3 different projects that she submitted to the 4th Annual New Media Film Festival. Submitting early allows for ample press lead time. We will be announcing early selections in addition to extended/final deadline (May 1, 2014)
5. All Ages, All Cultures, All Media: Ample time to prepare. We have screened content from ages 9 to 90, from over 20 different countries on all types of media. Submitting early allows you ample time to make adjustments, deliver in the format that works for the venue and country screening and allows for all types of promotion as we have inquires all year as to "Who do you recommend for this interview or to give this to"
Be an Early Bird and submit now, use promo code twitter10 at http://www.NewMediaFilmFestival.com and save money. We notify filmmakers no later than mid May 2014.
Save the Date: June 10 & 11th 2014 for 5th Annual New Media Film Festival - Los Angeles CA. Sign up on the waitlist for advance ticket info.
Meet actors, directors, producers, filmmakers, sponsors, speakers, film lovers as well as industry leaders at the 5th Annual New Media Film Festival
Subscribe to our newsletter or follow us on any of our social media and automatically be entered into our 52 Weeks of Giving Campaign.
New Media Film Festival: The Best in New Media-What's New, What's Next...Honoring Stories Worth Telling in all media that are innovative, imaginative and inspirational. Stories that can make you laugh, cry, think & go beyond the ordinary.
New Media Film Festival intersects the interactivity of new technologies & formats for Media & Cinema which exemplify the power of the cinematic arts to inspire and transform. A festival where we Honor Stories Worth Telling that are created by people of All Ages-All Cultures-All Media.
About the Festival
The Best in New Media: What's New, What's Next …honoring stories worth telling.
"Worth the entry fee" - Movie Maker Magazine
"The New Media Film Festival makes the cutting edge accessible". - Huffington Post
"Sundance for the Facebook Crowd." - Culture Rehab
Submit year round. Entries submitted between June 13th thru May 1st go in that year's festival.
Always submit early for savings.
Each submission is considered for Screening, Distribution & Competition.
Judging by Pixar,FOX, The Caucus and many other Industry Leaders, 45K in Awards.
5th Annual New Media Film Festival June 10 & 11th 2014
Sponsors, fans, filmmakers and you.
Join filmmakers from around the world, hear industry leaders, network with distributors and funders. Enjoy the Opening Night, Closing Night and Award
Ceremony and Red Carpet Press Junket
IMDb qualifying
International & Affordable-All Ages, All Cultures, All Media
Each festival has a Networking lounge- New Media Marketing Table (place 1 take 1), Art on Wall Exhibit and an International Art Exhibit
Experts in New Media Technology and Filmmaking share the Who, What, Why and How Social media, alternative distribution...the trials and tribulations of releasing independent films.