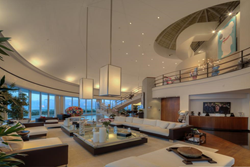 Pompano Beach, Florida (PRWEB) December 29, 2014
Throughout 2014, many of the world's top superstars tried to sell their glamorous homes, ranches and island vacation villas. From the Florida Atlantic Ocean beaches to a California Napa Valley mansion and winery, a Connecticut upscale farm, island vacation getaway in St. Barth and a grand Atlanta mansion, there is a celebrity property on sale for almost anyone who is extremely wealthy. The best of the VIP homes that were for sale in 2014 are featured on this week's Top 10 Homes Spotlight at TopTenRealEstateDeals.com.
"2014's Top 10 Celebrity Homes For Sale"
For the buyer whose ideal home should be next to a lot of water, Celine Dion outdid herself when she built her own water park on the beach in Jupiter, Florida. With at least an acre of swimming pools of all configurations, one can still step down to the beach for a saltwater swim or morning jog or relax on Celine's lazy river ride. Originally priced at $72 million, the oceanfront compound of a 10,000-square-foot main house, 7,000-square-foot finished basement, pool house, tennis court and house, beach and guest houses and water features is now listed at $62.5 million.
For those who lean toward a high level of Miami condo sophistication and penthouse views over Key Biscayne, Pharrell Williams has made his mark with his stunning condo and architectural "wow factor," roof decks and swimming pool – all available for $10.999 million.
In New England, there's the old guard environment of Old Saybrook, Connecticut, on the banks of Long Island Sound where Katharine Hepburn made her home and where a lucky home buyer can watch the romantic Saybrook Breakwater Lighthouse flash at night for $14.8 million. The Hepburn home price is reduced from $28 million.
Although the world is still mourning the loss of comedic genius Robin Williams, his exquisite taste is shown in his Tuscan-inspired winery in the hills above the California Napa Valley. Robin Williams' estate was priced at $35 million, now reduced to $25.9 million.
What better way is there to see into the soul of a celebrity than to see what they have created for themselves? Jane Fonda, the person rather than the actress, is so much better understood when one sees the ranch she designed for herself just outside of Santa Fe. The views, the river, the spiritual earthiness and elegance combined is for sale asking $19.5 million.
Also for sale are Christie Brinkley's private beachfront compound in a Turks and Caicos Islands oceanfront resort at $9 million; Kenny Rogers' 22-room Atlanta mansion with 10 fireplaces originally priced at $4.8 million, now reduced to $3.75 million; Steve Martin's island vacation home in St. Barth previously asking $11.59 million, now reduced to $8.91 million; and Renee Zellweger's rural Connecticut 1770's farm house and barn with views of the Quinebaug River for $1.35 million.
Not available any longer is Heidi Klum's Tuscan-style villa in Southern California that she purchased as a foreclosure in 2010 for $14.2 million. Heidi poured much money and design talent into the home and put it on the market in June 2014 asking $25 million. It was on the market for just a few weeks and sold for $24 million.
Visit TopTenRealEstateDeals.com for a tour of 2014's Top 10 Celebrity Homes and for more historic, famous and spectacular homes.