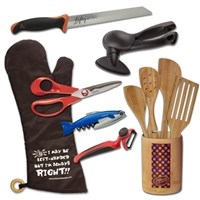 San Francisco, CA (PRWEB) December 05, 2013
Lefty's The Left Hand Store Announces the Top 12 Left-Handed Gifts for 2013. New products have surged to the top of the list.
In 2013 Lefty's added a remarkable group of top-selling new products. Just in are zippered leather left-handed portfolios in 3 styles. The portfolios are also packaged with 2014 left-handed calendars and left-handed scissors for a dynamite Holiday Gift Set. Each comes with a left-handed pen and pad of paper. The black leather is soft and incredibly durable, and customer reviews have been terrific.
In the summer, Lefty's doubled their selection in left-handed notebooks, adding several fun new designs in both wide-ruled and college-ruled categories. The most popular is the glittering wide-ruled butterfly notebook, included in the Top 12 as a Gift Set with a staff's favorite Stabilo left-handed pen, left-handed scissors, and a left-handed ruler. Other great new styles are the college-ruled Curly Q, colorful Metallic Covered notebooks, and the wide-ruled "Lefties Rule" (with a left-handed ruler on the cover) and knight notebooks.
Also new in 2013 is an elegant new Lefty's Left-Handed Bamboo Utensil Set. Beautifully styled and made of an especially hard bamboo, this set includes the super-popular pot-sitter perforated spoon designed to eliminate the drippy mess that often results from stirring a pot.
The new Bamboo Utensil Set, along with a matching holder, is included in the Master Chef Left-Handed Cooking Tools Gift Set as well as well as 3 other Left-Handed Kitchen Tool Gift Sets. Another new Kitchen Set is the 3 Piece Left-Handed Knife Set, with Lefty's new ergonomic rubber-handled chef's and bread knives along with the left-handed bagel cutter.
The Top 12 Gifts include some classic favorites as well such as the 5 PIece Left-Handed Tool Gift Set with Belt Tape Measure, and the Left-handed Gardening Gift Set.
Visit Lefty's retail stores in Pier 39, San Francisco, Downtown Disney in Walt Disney World, FL, or Old Town Kissimmee, FL.