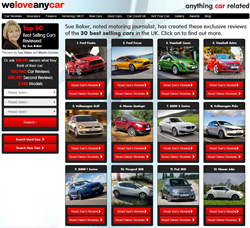 These are honest, wart-and-all reviews of Britain's most popular cars
(PRWEB UK) 24 June 2014
In 30 days, Sue Baker, noted motoring journalist, is set to become the most read car reviewer in the UK.
WeLoveAnyCar.com commissioned Sue Baker, former Chairman of the Guild of Motoring Writers and noted TV presenter, to write an independent review of each of the top 30 best-selling cars in the UK.
Over 6,000,000 known car owners will be sent their own digital copy of the car reviews in what is thought to be the biggest exercise of its kind ever attempted.
A WeLoveAnyCar.com spokesman said, "We've clocked up over 130,000 owner reviews and our free-to-use site is now the biggest car review site in the UK. However, we felt our site lacked the professional view and are delighted that Sue Baker took the challenge to independently review the top 30 best-selling cars in the UK."
Sue Baker has written a 'five minute love story' for each of the 30 cars giving the reader an independent view of her thoughts regarding each model's strengths and weaknesses.
WeLoveAnyCar.com has invested heavily in gathering car owner reviews of most makes and models on British roads. The addition of Sue Baker's reviews means that any prospective car buyer will be able to gather information in one place thereby reducing the time spent surfing the internet for information on which car to buy next – new or used.
Sue Baker, who was assisted in the exercise by Martin Gurdon said, "These are honest, wart-and-all reviews of Britain's most popular cars, independently written as a guide for canny buyers, not tyre-squealing petrolheads. They come with a breadth of experience, from over 30 years as a professional motoring writer during which time I have driven just about every car on the British market."
WeLoveAnyCar.com is harnessing the power of its massive car owner database to deliver 'Sue's Reviews.' The car review site spokesman said, "Recent studies, including the [ McKinsey & Company report; 'Innovating automotive retail', indicate that 100% of used car buyers and nearly all new car buyers go online before they venture out to visit car dealers. No other site has more car owner reviews and, now, with 'Sue's Reviews,' and our listing of every new car for sale in the UK, prospective car buyers can find out all the information they need on most of the popular cars in Britain without the need to trawl the internet for hours and hours."