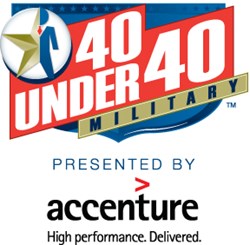 Atlanta, GA (PRWEB) November 03, 2013
CivilianJobs.com, where America's military connects with civilian careers, announced the winners of The Top 40 Under 40 Military Class of 2013 today. The military-experienced individuals who make up the 2013 class were selected by CivilianJobs.com's worldwide military base newspaper, Military Transition News (MTN), and the winners are being released this week in honor of Veterans Day.
"Both hiring veterans and equipping them to find employment outside Accenture is a top priority for us," said John Campagnino, managing director, global talent acquisition at Top 40 Under 40 Military presenting sponsor Accenture. "Accenture has welcomed many military veterans into our workforce and we are proud to help honor these 40 individuals who have served their country. These veterans serve as role models for others in the military and for those who are taking their military skills and using them to build successful careers in the private sector."
The Top 40 Under 40 Military program recognizes the top performing service members who are serving or have served in the U.S. armed forces. They are profiled each year in the November/December Veterans Day issue of MTN. The individuals selected for the 2013 recognition are:

Gregg Besozzi, Army, CPT
Derick B. Brough, Army, MSG
Kieran Carroll, Navy, LT
David S. Chang, Army, MAJ
Eugene T. Chu, Army, CPT
Jeffrey W. Clapper, Air Force, MSgt
Drew Concannon, Army, CPT
Kevin Conroy, Air Force, Capt
Richard Crazythunder, Navy, P02
Michael Dakduk, Marines, SSgt
Nicolette Danenberger, Navy, P01
Benjamin T. Faw, Army, CPT
Spencer Garrison, Army, CPT
James R. Hagle, Marines, SgtMaj
Adam L. Hamilton, Navy, LT
Caleb Huff, Army, SPC
Christopher W. Jones, Army, 1LT
Matt Larson, Air Force, Capt
Jim Lawson, Army, MAJ
Paul David Lucas, Jr., Army, SGT
Nolan Martin, Army, 1LT
C. Rene' Albert-Matthews, Air Force, SSgt
Matthew J. McCullough, Navy, LT
Conor C. McNamara, Army, CPT
Melanie M. Monts de Oca, Navy, LT
Clark W. Morrison, Navy, P02
Michael J. Noce, Navy, LT
Lisa Parrott, Marines, Capt
Matthew J. Quick, Army, MSG
Derek Rey, Marines, Capt
Seth Robert, Marines, Sgt
Tony Rossi, Navy, P01
Terry Schooler, Army, MAJ
Ryan Sund, Army, SSG
Christopher Terrio, Air Force, SMSgt
Shawn J. VanDiver, Navy, P01
Sandy Vithayanonth, Army, CPT
Christopher Welsh, Marines, Maj
Michael A. Willis, Navy, LT
Brad M. Zabek, Navy, P02
"Our 2013 Top 40 Under 40 Military class represents the highest of standards. They have excelled in a variety of circumstances and continued to shine under adversity. The quality of their character and their mission-first attitude makes them rising stars," said Jake Hutchings, Director of CivilianJobs.com. "As we mark Veterans Day on November 11, we hope that recognizing these forty military-experienced leaders will help to commemorate the occasion."
The criteria for the Top 40 Under 40 Military are as follows:

Serving or has served in the U.S. armed forces
Under 40 years old
Exemplary military performance as per their assignments and evaluations
Honorable discharge or anticipate an honorable discharge
For more information on the Top 40 Under 40 Military program including a pictorial of the 2013 class, go to http://www.civilianjobs.com/40U40.htm.
About The Top 40 Under 40 Military
The Top 40 Under 40 Military is released annually by CivilianJobs.com, where America's military connects with civilian careers. CivilianJobs.com, with parent company Bradley-Morris, Inc. (BMI), the largest military-focused recruiting firm in the U.S., together deliver the largest military-to-civilian footprint available to companies seeking to recruit and hire from the military talent pool. BMI is based in metro-Atlanta, Georgia. For more information, go to http://www.bradley-morris.com/.