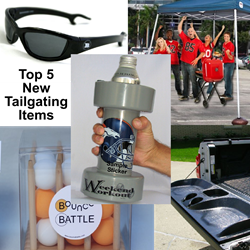 ...we can all agree that a tailgate can make or break a sporting event.
Bozeman, MT (PRWEB) October 03, 2013
Chairs, BBQ's and coolers are must-haves for tailgating. These things are a must but what about being noticed. Everyone wants to be the most popular tailgater for their team. Being the host, the guest or simply the "cruiser," anyone will stand out with these top 5 tailgating items.
"…we can all agree that a tailgate can make or break a sporting event." - Kyle Ayers, KorkedBats.com
1. BEERBELL
The Beerbell, designed to look like a barbell, is a three pound koozie that holds most 12 and 16 ounce cans and bottles. It keeps drinks colder, makes a great drink holder (no more party fouls), and no more lost drinks. Adding a favorite college or pro team sticker is like having a trophy to show off while tailgating.
2. TALEGATOR
The Talegator is a unique addition for the tailgate of any fullsize or midsized truck. It is made of a durable chemcial-resistant plastic and is designed to withstand the sun as well as winters wrath. The seat bottom is contoured with in air pocket in the bottom to provide a comfortable seat. The Talegator is light weight (approx 6lbs) and is the perfect addition for the tailgating party. Don't spend another minute sitting in a folding chair, or worse yet, crouching or sitting in the bed of your pickup.
3. EZ FAN FEET
When the winds come, does everyone stop what they're doing and grab a leg to hold it down? No place to drive in stakes to hold the canopy in place? EZ fan feet provides an extra 40 pounds of hold and adds 6" of additional clearance. Simply fill the EZ Fan Feet with sand and attach the canopy legs. Ez fan feet makes it easy to anchor down and enjoy your tailgating experience. Made in the USA with ABS plastic and UV resistant.
4. BREWSEES
Sunglasses and bottle openers are about as common at a tailgate party as secondhand smoke and free liquor is inside a casino. Most of the time sunglasses stay on people's faces while the bottle openers get moved around and often times misplaced. Introducing Brewsees. These are sunglasses that have bottle openers integrated right into the earpieces. That's right. Sunglasses that open up bottles. These tailgating sunglasses have a bottle opener on the end of each earpiece. The metal reinforced earpieces have "teeth" that can grab a hold of a bottle cap and take it off in no time.
5. BOUNCE BATTLE
Bounce Battle is beer pong with a bounce where players bounce ping pong balls into a cube to win a variety of battles. Game lovers of all ages familiar with beer pong and tic-tac-toe will instantly connect with the concept and potential of Bounce Battle. While contained in a small 6" x 6" x 6" box, Bounce Battle packs a punch, incorporating many features of popular games like tic-tac-toe, beer pong, Skee-Ball, and H.O.R.S.E. (trick shot), among others. Pick your battle and play close to your opponent at a table or on the ground.
About Beerbell
Corey VanDyke has successfully started and managed a scrapbooking business, furniture business, and cafe. Five years ago she helped her husband start their own dog food delivery business and coffee hut. Corey is a dedicated family woman, who prioritizes family events with her husband, Scott, being with friends, enjoying sporting events and exploring new ideas along the way.
For additional information about the Beerbell™ and other products please contact:
Corey VanDyke
Co-Founder
Email: beerbellscott(at)gmail(dot)com
Website: http://beerbell.info/Blog.html