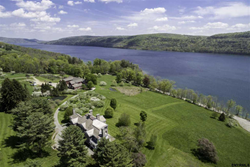 Where Real Estate Is Never Boring
POMPANO BEACH, Fla. (PRWEB) July 26, 2018
"Baseball Hall of Fame & Anheuser-Busch Beer Farm"
Attention baseball and beer fans! Grab your caps, the sunscreen and the cooler and head out to the National Baseball Hall of Fame induction ceremonies in historic Cooperstown, New York from July 27th to 30th. Much anticipated by fans, it's where this year's newest members: Jack Morris, Alan Trammell, Vladimir Guerrero, Trevor Hoffman, Chipper Jones and Jim Thome will be inducted.
The Hall of Fame is located in one of America's most picturesque small towns, a good choice for year-round living or to visit for an entertaining weekend getaway any time of year. In addition to the Abner Doubleday invented baseball here story and the longtime home of James Fenimore Cooper, the Anheuser-Busch beer family once owned a 600-acre farm in Cooperstown that supplied the hops to all their breweries. Cooperstown was once the hops capital of the United States and the Anheuser family was very involved in the Cooperstown community, sometimes driving their famous Clydesdales through town. Surrounded by mountains and lakes, it's the perfect scenic setting for the many festivals held throughout the year and foodies will delight in exploring the clever Cooperstown Beverage Trail to explore the many distilleries, vineyards and restaurants. Art galleries, theaters, museums, watersports, hiking and scenic road trips are convenient to explore from any of the many hotels, B&Bs or cabins in the area. For baseball fans or anyone who has fallen in love with the area and wishes they never had to leave, that possibility now exists with an historic farm where the original Anheuser-Busch farm was located.
Now for sale is part of the original Anheuser-Busch hops farm, an 18-acre country estate that borders Lake Otsego with stunning views of the water from most every room. Named "Farmlands" by the architect, the open and lushly landscaped acreage includes a 12,000-square-foot Federal-style stone main house that was recently added, a massive red barn, tennis courts, a private pond, mature apple trees and gardens.
The six-bedroom, seven-bath mansion is sited perfectly for the panoramic lake views and was designed by the architect to take full advantage of the location. Though recently built, the size of the rooms, large fireplaces and detailed moldings are like stepping back in time into a grand manor house. The foyer opens to a suspended curved stairwell and marble fireplace that leads to the formal living room and paneled office, both with lake views. The bedroom suites, divided among the three levels, are large and airy with seating areas around the fireplace while the basement houses a large game room, gym, walk-in fireproof safe, large laundry, and custom wine cellar.
Part of the original Anheuser-Busch hops farm, Farmlands, is priced at $7 million. The listing agent is Mary Diehl Gibson of Keller-Williams Luxury Homes International, Saratoga Springs, New York.
Visit TopTenRealEstateDeals.com for more historic, spectacular and celebrity homes and real estate news.