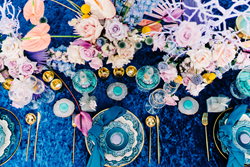 Each year offers new and exciting styles and designs, and we're thrilled to share that 2019 has a lot in store.
LONDON (PRWEB) January 04, 2019
The International Academy of Wedding and Event Planning (IAWEP) has released the fifth annual International Wedding Trend Report revealing the top wedding trends and statistics for the new year according to the world's most recognized special events experts.
"The International Academy of Wedding and Event Planning is a global leader of continuing education in the weddings and events industry," shares Kylie Carlson, CEO of IAWEP. "Our connection to industry experts around the world provides us with the unique opportunity to invest in researching and revealing worldwide wedding trends. Each year offers new and exciting styles and designs, and we're thrilled to share that 2019 has a lot in store."
Event planner and TV personality Colin Cowie shares his thoughts about weddings in 2019, assuring that "we can expect to see the return to deep colors like emerald and aubergine, as well as rising popularity for florals including dahlias and ranunculus. We're over the floral wall and the rustic wedding- while they were both immensely popular for a time, we are trending back towards greenery and contemporary looks."
Likewise, luxury wedding planner Mindy Weiss predicts a shift to more natural and organic styles. "Couples are opting for low centerpieces instead of tall and that lends itself to a more natural, romantic look," she shares. "The style is more of an unkept garden than a tight and formal wedding for 2019. Couples are also investing more in tabletop than before and renting unique dishes that are often mismatched and paired with cut crystal."
Away with Plated Dinners
"This year, we'll see much less in the way of traditional seated dinners," says Carlson. "Instead, more informal options like buffet and made-to-order food stations will dominate the catering side of weddings in 2019." Heather Rouffe, managing partner of Atlas Event Rental, elaborates: "Couples are going out of their way to style and design how the food is served, bringing in interesting serving pieces, mini plates, asking for unique serving styles to create the ultimate guest experience and unique affair."
An Emphasis on Going Green
"We can expect the continued rise of eco-friendly weddings, with couples also opting to include vegan menu options for their reception," ensures Cowie. In addition, "couples will be more inclined to choose recyclable flatware and other additions that are environmentally friendly," adds Carlson.
Innovative by Nature
Event industry pioneer, Brit Bertino, explains that "couples are wanting more of an outdoor feel so they are requesting to bring the 'outdoors in' with lots of tailored greenery/hanging greenery that will replace the use of flowers in centerpieces." On the same note, "couples are still looking for creative ways to bring nature into their venues, whether that's covering the columns with ivy or lining the aisle with palms for a greenhouse effect," says Joan Wyndrum, co-founder of Blooms by the Box.
Weddings: Not Just for Saturdays
"The biggest trend I've seen lately is the Friday wedding," shares Weiss. "Couples care about the date more than the day of week. It's about the number and, if that falls on a Friday, so be it." Likewise, "Sunday weddings have become more popular at venues worldwide, with casual atmospheres, brunch menus and daytime activities playing a big role," adds Carlson.
The International Wedding Trend Report can be accessed in its entirety on the Academy's site.
About the International Academy of Wedding and Event Planning
With seven online campuses globally, the International Academy of Wedding and Event Planning boasts an internationally recognized accreditation program that brings professional training to wedding planners, event planners, event designers and wedding stylists.