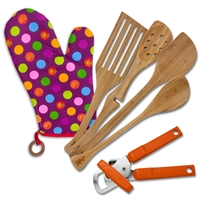 San Francisco, CA (PRWEB) December 08, 2016
The Left Hand Store reveals the top 5 left-handed kitchen tools a lefty chef needs for the holidays.
Lefty's the Left Hand Store has literally searched the world over to find high quality, truly left-handed cooking tools. There just aren't enough left-handers to make these products financially viable for most companies. But Lefty's works with fabricators around the world, and has been able to custom make many of the most useful implements.
After 10 years of running a retail store on San Francisco's Pier 39 with products just for lefties, and 8 years of running a web site, Lefty's knows what left-handers really want.
Here are the top left-handed kitchen tools order of popularity:
1. Left-Handed Can Opener
2. Left-Handed Measuring Cup
3. Left-Handed Kitchen Tools
4. Left-Handed Kitchen Set with bamboo tools, can opener, and left-handed cooking mitt
5. Left-Handed Corkscrew
The can opener rotates counter-clockwise, tremendously easier and safer for left-handers than a right-handed can opener. Right-handers should try opening a can using their left hands in order to understand the problem.
The measuring cup (cups and ounces) has markings that face the holder when held in the left hand. The right-handed version has markings on the rear face, impossible for lefties to read without twisting their hands 180 degrees.
The ends of the bamboo kitchen tools are angled for use with the left hand.
The kitchen set includes the can opener and kitchen tools, along with a dotted mitt that has heat protective coating on the bottom when used on the left hand.
The corkscrew, like the can opener, rotates counter-clockwise. That means that lefties can turn the corkscrew instead of the bottle, and they often have to do with a right-handed corkscrew.
Holiday cooking should be efficient in order to be fun. With left-handed tools, lefty chefs don't have to be frustrated and irritated by having to work around their equipment.
Visit Lefty's retail stores in Pier 39, San Francisco, in Downtown Disney, Walt Disney World Resorts in Orlando, and Old Town Mall in Kissimmee, FL. Visit the store on-line for the largest selection of left-handed products in the world!