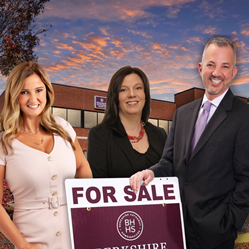 "This is a merger of two companies with similar cultures and a commitment to first class service for our agents and clients." —Kevin Wiles, President, PenFed Realty LLC
ALEXANDRIA, Va. (PRWEB) May 13, 2021
Berkshire Hathaway HomeServices PenFed Realty, one of the country's fastest-growing brokerages with 2,000 agents and $6 billion in annual sales, today announced that they are joining forces with Berkshire Hathaway HomeServices Select Realty of Fredericksburg, Va.
Led by founder and Principal Broker Dan Lesher, BHHS Select Realty, with its three offices in Fredericksburg and Stafford, and its lineup of 150 top-producing Realtors®, opened its doors for business in 2007 and joined the Berkshire Hathaway HomeServices network in 2015.
"It is an honor and a privilege for me to welcome the agents and employees of BHHS Select Realty into the PenFed family," said PenFed Realty President Kevin Wiles. "Dan Lesher is a dynamic and visionary leader in the real estate industry. This is a merger of two companies with similar cultures and a commitment to first class service for our agents and clients. Not only is it a perfect fit, but the company that results from this merger will be, as the saying goes, greater than the sum of its parts."
Since its inception, BHHS Select Realty has consistently delivered an exceptional home buying and selling experience for their clients. With an annual sales volume of $500 million, the company sits among the top 50 firms in the Berkshire Hathaway HomeServices worldwide network of brokerages and has been consistently named to the Berkshire Elite Circle.
"Joining PenFed Realty is the next, most logical step in our progression as a company," said Lesher. "From the start, Select Realty has been laser-focused on helping our agents grow their businesses, which is very much aligned with PenFed Realty's mission, vision and values. With PenFed Realty's reach and resources, plus their emphasis on agent support, our agents will have access to powerful new programs and tools that will help them reach their next level of success."
Starting June 1, Berkshire Hathaway HomeServices Select Realty will be rebranded as Berkshire Hathaway HomeServices PenFed Realty. The company will continue to operate their offices on Kings Highway and Plank Road in Fredericksburg, and Center Street in Stafford.
About Berkshire Hathaway HomeServices PenFed Realty
Berkshire Hathaway HomeServices PenFed Realty (http://www.penfedrealty.com) is a full-service real estate company with an annual sales volume of over $6 billion. The company has over 2,000 agents and almost 60 offices, providing complete real estate services nationwide. PenFed Realty is a wholly owned subsidiary of PenFed Credit Union and is a member of the Berkshire Hathaway HomeServices brokerage network, operated by HSF Affiliates LLC. Membership with PenFed Credit Union is not required to conduct business with BHHS PenFed Realty. We are proud to be an equal employment opportunity employer. Equal Housing Opportunity.