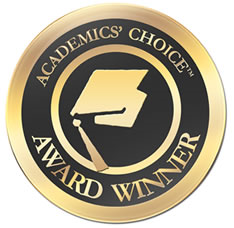 We are grateful and honoured for this prestigious award that confirms we are on the right track.
APTOS, Calif. (PRWEB) September 04, 2020
Academics' Choice today congratulates all winners of the Summer 2020 Academics' Choice Awards, a prestigious seal of educational quality, reserved only for the best mind-building media and toys. The summer winners include brain-boosting products from Curriki, Learning Resources, Playtango, Blub Blub Inc., Playroom Entertainment, Master Theorem Games, K's Kids, Tinkerer, Red Star Holdings, HUE, Hernando Acevedo Rios, Adventerra Games, Sullivans Distribution Inc., Owl Hill Media, Madelyn Hornstein, Trigger Memory Company, Mussila, Press4kids, Marshmallow Games, Ningbo Mideer Toys Co., PlayShfiu, Royal Fireworks Publishing, Matatalab Co., National Association for the Education of Young Children (NAEYC), Linguacious, Oswaal Books, Missing Piece Press, Little World Builder, hand2mind, and more! The full list of winners is posted online at http://www.academicschoice.com/2020.
The Academics' Choice Advisory Board consists of leading thinkers and graduates from Princeton, Harvard, George Washington University, and other reputable educational institutions. Product-appropriate volunteer reviewers, combined with the brainpower of the Board, determine the coveted winners. Entries are judged by category (i.e. mobile app, toy, book, website, magazine, etc.), subject area, and grade level, and evaluated based on standardized criteria rooted in constructivist learning theory.
"We are grateful and honoured for this prestigious award that confirms we are on the right track. It means the world to our entire team. Blub Blub Inc. is here for the impact. We are helping preschoolers thrive by providing fun, kid-to-kid learning applications. Due to our constant user research and content creation, typical kids develop their speaking and reading abilities earlier in life, and many atypical kids (those with autism or down syndrome) finally find their way to express their thoughts and emotions." - Mitja Mavsar, Co-founder, Blub Blub Inc.
"We at Mussila are grateful for Academics' Choice Awards. This award means a lot to us because we try our best to make the best possible experience for children to learn music. To be recognized by the Academic's Choice Advisory Board proves that by combining music curriculum, education, entertainment, and technology that we are on the right track." - Jon Gunnar Thordarson CEO of Mussila
"From the beginning, Matatalab has always been determined to provide cognitive and creative technology tools for children around the world. Our intention is to help children develop technological confidence so as to rise up to and change the world. Academics' Choice Awards confirms the value we offer to users. We hope to provide more children with high-quality educational resources, pique curiosity, encourage innovation, and help them explore and realize their potential." - Tony Zheng, COO of Matatalab
"From the inception of Trigger Memory Learning Company 17 years ago, our mission has been to provide quality, out-of-the-box educational products for children. We feel honored to be chosen as an Academics' Choice award winner. We believe this award of excellence will communicate to our audience all over the world that our Times Tales program is a trustworthy resource for kids to learn multiplication in a way that is fun and unconventional!" - Jennie Winters, Co-Owner of Trigger Memory Publishing
Many of the products that are evaluated by the Academics' Choice Awards team are donated to a variety of worthy charities including the Kids In Need Foundation and the Toys for Tots Foundation.
About Academics' Choice:
Academics' Choice helps consumers find exceptional brain-boosting material. Academics' Choice is the only international awards program designed to bring increased recognition to publishers, manufacturers, independent authors and developers that aim to stimulate cognitive development. A volunteer panel of product-appropriate judges, including parents, educators, scientists, artists, doctors, nurses, librarians, students and children, evaluate submissions based on educational benefits such as higher-order thinking skills, character building, creative play, durability and originality. Only the genuine "mind-builders" are recognized with the coveted Academics' Choice Awards.