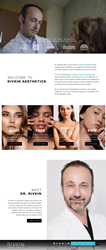 "This textbook is truly the reference of choice for up-to-date, authoritative coverage of today's most effective, innovative and sought-after techniques in cosmetic facial surgery," says Dr. Alexander Rivkin. "It's a real honor to be included as an author."
LOS ANGELES (PRWEB) January 04, 2023
Dr. Alexander Rivkin is a prominent plastic surgeon in Los Angeles, California, who is widely recognized as an international specialist in minimally invasive aesthetics and non-surgical facial sculpting. In the new medical textbook "Cosmetic Facial Surgery-3rd edition," readers are able to benefit from Dr. Rivkin's chapter outlining his skill and experience in performing non-surgical tear trough correction with filler injection (non-surgical dark circle treatment). The publication covers a wide menu of topics, ranging from facial implants, facelifts, rhinoplasty, lasers, blepharoplasty and liposuction, to the newest non-surgical innovations, and Dr. Rivkin was selected to be on the elite team of cosmetic surgery leaders to contribute step-by-step guidance for optimal outcomes. Non-surgical tear trough correction is a revolutionary option that eliminates dark circles in minutes with no downtime or surgical risks. In his chapter, Dr. Alexander Rivkin shares his mastery of the procedure, detailing his unique method for eliminating dark circles and camouflaging bags under the eyes, using a non-invasive, effective and painless injection technique. Dr. Rivkin has published numerous peer-reviewed journal articles and book chapters on non-surgical cosmetic treatments. He frequently trains physicians from all over the world on optimizing advanced injection techniques and serves as a lead investigator on FDA and NIH clinical trials. He is often a guest on national media programs, including the TODAY show, The Doctors, Good Morning America, Entertainment Tonight and EXTRA.
Link - https://www.elsevier.com/books/cosmetic-facial-surgery/978-0-323-79519-7
"This textbook is truly the reference of choice for up-to-date, authoritative coverage of today's most effective, innovative and sought-after techniques in cosmetic facial surgery," says Dr. Alexander Rivkin. "It's a real honor to be included as an author."
More about Dr. Alexander Rivkin:
Dr. Rivkin is a facial aesthetic specialist and an assistant clinical professor at the David Geffen / UCLA School of Medicine. He received his undergraduate degree from Columbia University, medical degree from the Yale University School of Medicine and residency in Otolaryngology/ Head and Neck Surgery at the University of California San Diego School of Medicine. His practice, RIVKIN Aesthetics, is focused on developing and perfecting non-invasive, non-ablative cosmetic treatments. He is widely known for pioneering and popularizing the non-surgical rhinoplasty procedure, and in 2020 published the largest statistically comprehensive study on non-surgical rhinoplasty in medical literature. Dr. Rivkin divides his time between patient care, clinical research, physician education, media appearances and lecturing throughout the world. RIVKIN Aesthetics is located at 435 N Roxbury Dr #100 in Beverly Hills, CA 90210 and 11645 Wilshire Blvd., Suite 800 in Los Angeles, CA. For more information, please visit http://www.westsideaesthetics.com or call 310-443-5273.