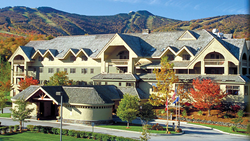 New Life Hiking Spa is honored to be on the list of Top Fitness Vacations for 2014. It is an incredible list of vacation destinations and we are thrilled to be among them.
Killington, Vermont (PRWEB) May 09, 2014
New Life Hiking Spa located in Killington, Vermont made the recent list of Greatist's "17 Most Amazing Fitness Vacations of 2014". Other than one in Florida, it was the only destination on the East Coast to receive this designation.
Greatist, a media company whose focus is inspiring healthy lifestyles, is headquartered in New York City. It is the fastest growing healthy lifestyle media company in the country. It boasts over 4.5 million monthly unique visitors to their website and over 600,000 social media followers.
The round-up of the 17 Most Amazing Fitness Vacations from around the world are:
1. Big Sky Montana Resort in Big Sky, MT
2. Jungle Bay Resort and Spa in Point Mulartre, Dominica
3. Lucero Surf in Santa Teresa, Costa Rica
4. MountainTrek Alpine Lodge in Ainsworth Hot Springs, British Columbia
5. New Life Hiking Spa in Killington, Vermont
6. Red Cliffs Lodge in Moab, UT
7. The Ashram in Calabasas, CA
8. Canyon Ranch in Tucson, AZ
9. Lake Austin Spa in Austin, TX
10. Living La Vida La Jolla in La Jolla, CA
11. Norwegian Cruise Line on Norwegian Epic, Caribbean and European cruises
12. Saddlebrooke Resort in Tampa, FL
13. South of the Border Volleyball Vacations in Ixtapa, Cabo San Lucas and Puerto Vallarta, Mexico
14. Tiger Muay Thai in Phuket, Thailand
15. Four Seasons Westlake in Westlake Village, CA
16. Mii Amo in Sedona, Arizona
17. The Yoga Getaway in Machu Picchu, Peru
The list was compiled based on availability and diversity of fitness programming, availability of individual fitness classes and active excursions, accessibility for a range of activity levels, from leisurely to intense, availability of healthy, customizable meals meeting various dietary restrictions, availability of relaxation services such as spa treatments and massages, availability of specialized staff trained in featured fitness activities and overall reviews.
About New Life Hiking Spa:
New Life Hiking Spa in Killington, Vermont is one of the leading destination spas in North America. New Life was founded in 1978, by Jimmy LeSage, M.S. and is celebrating its 36th year in business this May.
New Life Hiking Spa was recognized by SpaFinder Wellness as one of the 25 pioneer spas that have shaped the spa industry as it is today.
Often referred to as one of the most affordable destination spas in North America, the regular prices range from $219 - $259 per night. Price includes a room, three healthy meals per day, fresh fruit and vegetables as snacks, one guided hike every day (three levels offered per day to accommodate everyone's fitness needs), all fitness and yoga classes, one massage for every three night stay and evening lectures and cooking demos.
New Life Hiking Spa is open each year from mid-May through the end of September. Approximately 700 guests from all over the world come to visit New Life in the Green Mountains of Vermont.
New Life has been consistently picked as one of the top ten spas in the world by SpaFinder Wellness Reader's Choice Awards for hiking, outdoor adventure, solo travel, weight loss, affordability and fitness classes over the past decade. In addition, New Life Hiking Spa was chosen in Yankee Magazine's Editor's Choice Awards for "Best Place to Rejuvenate" and has been listed as New England's top spa by Spas of America in 2010, 2011, 2012 and 2013.
New Life Hiking Spa is open for the 2014 season from May 15 – September 26 and is now taking reservations for the upcoming season.
More information can be found online at http://www.NewLifeHikingSpa.com or http://www.WeightLossSpa.com.