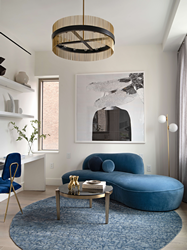 NEW YORK (PRWEB) April 30, 2019
Today, the largest luxury design and real estate marketing firm in the United States, Interior Marketing Group (IMG) announced an official partnership with the New York Residential Agent Continuum (NYRAC), the first organization created by and for residential real estate agents in New York City to advocate for the elevation of the professional and ethical standards by which residential real estate brokers operate. As a Gold Partner for the Continuum, IMG will contribute to NYRAC's growth and industry initiatives, and provide exclusive offers to its members.
"If you are a top real estate agent in New York City, you've worked with Cheryl Eisen and the IMG team. Not only are their design vision and execution second to none, they move markets. We couldn't ask for a better partner for NYRAC," said Heather McDonough Domi, NYRAC Founding Chairperson.
Known for their signature property marketing strategy, IMG has reinvented the singular focus of staging by creating a unique hybrid of interior design, public relations, marketing and event planning. This combination creates a powerful trifecta of visual differentiation, media exposure and industry buzz in order to defy real estate market trends. According to 2018 Olshan Report data, IMG-designed properties sell 79% faster than the luxury market average with 45% selling over asking price.
As the most prolific designers for New York's top luxury real estate agents, IMG has already collaborated with more than 50% of NYRAC's founding agents. Most notably, IMG and NYRAC Founding Board Member Adam Modlin partnered to sell the townhouse at 4 E 74th street. Once owned by Marc Chagall and Michael Jackson, the Upper East Side property was the largest sale of the month in October 2018. Similarly, IMG has been the go-to resource for NYRAC Founding Board Member Nikki Field, leader of Sotheby's #1 team, who continuously selects IMG for her listings including recent projects at 212 Fifth Avenue, 870 United Nations Plaza.
"When we first learned about NYRAC several months ago, we were honored to be considered as their sole design partner. The industry is in a renaissance and it's time for standardization. We could not be prouder to be aligned with New York real estate's top players," said Cheryl Eisen, Founder and President of IMG.
Since NYRAC was first announced in November 2018, the Continuum has already grown to nearly 200 members. Prospective NYRAC members must be endorsed by three active members and have at least five years of experience in residential real estate sales in New York City (including maintaining a minimum of $10,000,000 in annual sales volume over the previous five years). In addition, they must hold a valid real estate license in the State of New York, be a residential member of the Real Estate Board of New York (REBNY), comply with REBNY's RLS Universal Co-brokerage Agreement and adhere to REBNY's Code of Ethics. Along with special offers for members throughout the year, NYRAC and IMG will partner on their first event in Q2 2019.
For more information about NYRAC and IMG, please visit http://www.ny-rac.com and http://www.imgnyc.com.