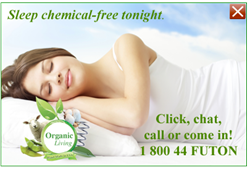 Among their 33 mattresses, their top 10 has been revealed just in time with their end of summer sale.
San Francisco, Ca (PRWEB) September 23, 2013
The Futon Shop's September 23rd End of Summer Sale lists their Top 10 mattresses. The Futon Shop, the leading organic futon mattress manufacturer in Northern California, has over 33 futon mattresses. Among their 33 mattresses, their top 10 has been revealed just in time with their end of summer sale.
From the top ten selections, the Cool Cloud Sleep System's Divine Ice Gel Memory foam has all top quality ingredients used in the mattress industry. Cool gel soy foam recently has been one of the top ingredients in the mattress industry in the last couple of years. Gel foam has been known to have superior cell structure that molds to the body and a cooling effect.Gel memory foam has higher flow efficiency than memory foam, but has the same or higher quality with the same pressure relief. With no fire retardants, the Futon Shop maintains their eco-friendly mission and keeps quality comfort at the same time.
The Natural and the Natural Plus were the first two organic mattresses that The Futon Shop incorporated soy memory foam. These two mattresses skyrocketed in popularity because of their organic factor and comfort. They both also have added natural organic staple cotton and 4lb tempurpedic soy foam. The Pure Comfort mattress makes the list because of its upgraded organic cotton and individually pocketed coils. The Pure Comfort futon mattress was the first organic mattress that felt like a traditional mattress.
For more information about the top ten futon mattresses: http://www.thefutonshop.com
The Ten Top Futon Mattresses
1. Divine Ice Gel Memory Foam Bed
2. Natural Plus
3. Natural
4. Pure Comfort
5. Cozy Comfort Futon
6. Serenity Latex
7. Phiten Clarity Futon
8. Phiten Essence
9. Viscose Deluxe
10. New Relaxer
About The Futon Shop:
The Futon Shop manufacturers their eco-friendly and organic futon mattresses and bedding in San Francisco, California. Each mattress is hand made with only the finest of ingredients. The Futon Shop specializes in modern sofa beds, futon mattresses, organic bedding, bed frames since 1976.