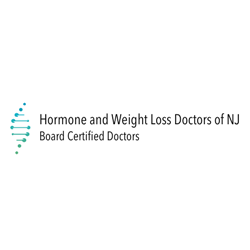 Our practice is one of very few New Jersey board certified providers that offer a plethora of prescription-based solutions for medical weight loss
WAYNE, N.J. (PRWEB) May 26, 2023
Founder and medical director of the Wayne, New Jersey based Hormone and Weight Loss Doctors of NJ, Dr. Peter Balazs, announced today that his specialty weight loss practice has experienced a sharp increase in men and women seeking prescription medication (AOD-9604, CJC-1295/Ipamorelin, Mounjaro™, Ozempic®, semaglutide, tesofensine, and tirzepatide) for medical weight loss treatment. The medical weight loss programs offered at the Hormone and Weight Loss Doctors of NJ are FDA-approved to treat a variety of conditions.
Research from the US Preventive Services Task Force suggests that patients who underwent prescription-based medical weight loss treatment and concurrently practiced healthy lifestyle choices experienced reasonable weight loss, stating "studies of medication-based weight loss and maintenance interventions also reported greater weight loss or less weight regain in intervention compared with placebo groups".
The Wayne, NJ based board certified medical weight loss physician noted, "Our practice is one of very few New Jersey board certified providers that offer a plethora of bioidentical prescription-based solutions for medical weight loss, as the nationwide shortage of the medication has put a strain on its availability. The FDA-approved medical weight loss treatments offered at our practice possess a strong history of sufficiently tackling weight management for patients who suffer from type 2 diabetes, as well as obesity".
The influx of individuals seeking prescription medical weight loss consultations can be linked to the impact of the coronavirus pandemic, as many individuals in the U.S. underwent an intense and extended inactive lifestyle due to international government-mandated isolation. According to the National Institute of Health, "Psychological distress, pre-pandemic weight status, having children at home, and the amount of time since the last body weight check were all statistically significant predictors of pandemic weight gain".
About Us
The board certified NJ weight loss & HRT specialist doctors of Hormone and Weight Loss Doctors of NJ offers prescriptions for medical weight loss including FDA approved Mounjaro, Ozempic, Semaglutide, and Tirzepatide. Peptide therapy for weight loss is also offered including AOD-9604 (Advanced Obesity Drug), CJC-1295 / Ipamorelin, and Tesofensine. We are also specialists in bio-identical hormone replacement therapy (BHRT / HRT) and offer treatments for Low-T, menopause, perimenopause, and other hormone imbalance conditions.
Dr. Peter Balazs
Hormone and Weight Loss Doctors of NJ
1777 Hamburg Turnpike
Suite 302-H
Wayne, NJ 07470
(973) 314-2905
https://www.hormoneweightlossdoctorsnj.com