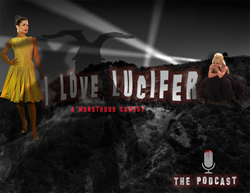 We developed I Love Lucifer with Max Brooks (World War Z) to keep [the podcast] authentic..."
LOS ANGELES (PRWEB) June 29, 2021
Starring scream queens and monsters from hell, Go Girl Media will launch a new bad-to-the-bone podcast, the "I Love Lucifer Podcast" this summer. Starring Adam Levy (The Witcher, Supergirl), as Nigel the Storyteller, the podcast project began as a television show but was shelved in 2020 due to the pandemic. Creators Susie Singer Carter (Bratz, Soul Surfer), and Don Priess went into quarantine with the rest of the world, however, instead of binging Tiger King, the duo decided to make the best of it by producing a comedy/horror podcast. The actors provided voice-overs from around the world to bring the "rom-mon-com" to life.
In the comedy/horror podcast, the lines of reality begin to blur when two bad-ass, B-Movie babes battle movie monsters by day and real monsters by night. The plot twists around your finger like wet, silky hair, as life drastically changes for Holly Klym and Tanya Thompson when the screen rivals discover their talent agent has signed them to a contract that imbues them with super-human powers and sends them on a new career path as demon hunters. (Think Buffy the Vampire Slayer meets Shaun of the Dead, meets Bridesmaids.)
"We developed I Love Lucifer with Max Brooks who wrote World War Z and the The Zombie Survival Guide in order to keep it authentic and appealing to our fans," said Susie Singer Carter, President of Go Girl Media. "We feel we have created an audio design that really engages thriller podcast fans."
I Love Lucifer Podcast – Season One
Episode 1: "Hell Kittens"
Scream Queen Bee Tanya Thompson's life is turned upside down with the arrival of her new rival, Holly Klym.
Episode 2: "See No Evil, Smell No Evil"
A shocking discovery and a string of lies send Tanya and Holly into a horrifying encounter.
EPISODE 3: "DemonsDemonsDemonsDemonsDemonsDemons"
Tanya and Holly's demon hunting days begin.
EPISODE 4: "Team Scream Queens"
Tanya and Holly's skills are tested during an epic battle against evil.
EPISODE 5: "All About Evil"
Tanya's estranged and strange father, Nigel, insinuates himself back into her life.
EPISODE 6: "They Sing. They Dance. They Die"
Holly and Tanya attend an appearance that turns out to be a bloodbath.
EPISODE 7: "Demon Hunting for Dummies"
After vanquishing a powerful foe, Tanya and Holly learn that Larry lied, and their demon hunting days are not over.
EPISODE 8: "Vampires, Hordes, and Minions, Oh My"
More dysfunctional monsters plague Tanya and Holly, leading them closer to Typhon. Holly's attempt to play matchmaker backfires horribly.
EPISODE 9: "Garden Variety Green-Eyed Monster"
Their bond breaks when Tanya accuses Holly of being a covert Demon. In the meantime, Nigel is kidnapped by Typhon.
EPISODE 10: "Between the Devil and the Deep Blue Sea"
Season Finale.
Get an earful of I Love Lucifer (Authentic Podcast Network) starring Adam Levy, Susie Singer Carter, Nicole Lynn Evans, and DawnMarie Ferrara on iTunes, Spotify, and podcast platforms July 14, 2021. For more information and a full cast, visit http://www.iloveluciferpodcast.com http://www.gogirlmedia.com