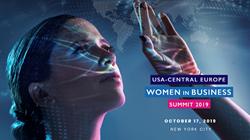 NEW YORK (PRWEB) July 17, 2019
Polish & American Women Entrepreneurs (WE) in partnership with Cultural Vistas and the honorary committee headed by the Consulate General of the Republic of Poland in New York with four other Central European country representatives - the Embassy of Slovakia, the Consulate General of the Czech Republic, the Consulate General of Hungary, the Consulate General of Germany, and representatives from the United States - will be hosting The USA-Central Europe Women in Business Summit 2019. The summit will take place on Thursday, October 17, 2019 in the penthouse of the Tribeca rooftop (2 Desbrosses St. New York, NY 10013).
Central Europe is a booming region of startups and high achieving women entrepreneurs that has become the economic driver of growth in Europe. These trends are actively supported by governments and public institutions that emphasize foreign expansion and scaling of companies that until recently were satisfied with just local and regional growth. This change to a more outward perspective ties strongly with an increasing conviction to build and grow a transatlantic dialogue among women in business.
"Women in business from these two regions should continue to develop new or grow already existing trade and investment linkages and partnerships. The summit will give these women an opportunity to discuss, share, and broaden their networks. There is no better way to grow a business and expand a professional network than through personal exchange of ideas and practices," said Maciej Golubiewski, Consul General of Poland in New York.
The summit, which will also feature representatives of each country's Trade and Investment Office, will focus on a variety of entities and subjects ranging from women led startups, already established enterprises, to professional career leadership building in Central Europe and the US. Notable attendees will include representatives from both regions discussing challenges and opportunities for American and Central European women in business, strategies for accessing market opportunities, and providing insights into the best practices available for conducting transatlantic business. Panel discussions led by accomplished and highly successful speakers, interactive high-level meetings with significant economic, trade, and political figures, excellent networking opportunities with industry peers, thought leaders and potential investors will all make it an unprecedented summit of this kind.
USACE is made possible in partnership with Mastercard, Google, KGHM, LOT Polish Airlines and more partners to be announced soon.
Media interested in attending the USA- Central Europe Women in Business Summit 2019 should contact Ajay Bruno (details below).
Individuals wishing to attend as guests should register at:
https://www.eventbrite.com/e/usa-central-europe-women-in-business-summit-tickets-59331508138
This event will be strictly limited to 350 attendees, with tickets starting as low as $79 for young professionals, and $129 for the standard early bird rate. All tickets include full access to the day-long program, including breakfast and lunch, panel discussions, breakout sessions, and networking.
To learn more about the USA-Central Europe Women in Business Summit 2019:
Visit website: http://usacewomen.com,
Follow on Facebook and Twitter @USACEWomeninBiz,
Hastag: #USACEWomen
Media Contact:
Ajay Bruno
AMW Public Relations
(732) 546-4287
ajay@amwpr.com