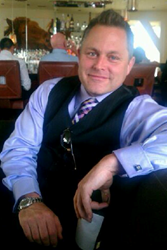 If the deal doesn't close, we earn zero.
CA, USA (PRWEB) February 13, 2014
Business owner and Real Estate Agent Greg Toussieng is the founder of TopBrokerMatch.com, a website dedicated to helping homebuyers and sellers in the Orange County area find the best brokers to help them through the process of buying and selling a home. Now this Leading Orange County Realtor Offers 3 Tips for First-Time Buyers.
TopBrokerMatch.com pre-screens reputable real estate professionals by gathering and analyzing sales performance along with customer feedback and surveys. This information is updated to a database every 24 hours, so that the company continuously evaluates their real estate professionals and is able to make informed decisions when matching these professionals with clients.
"We don't just give a list of good agents because there a lot of good agents out there. We actually pull the data from our software that we use to find the perfect agent for our clients' needs depending on their specific situations," Toussieng said, "We offer this service for free and get paid by sharing a small portion of the real estate commission once the transaction closes. If the deal doesn't close, we earn zero."
Not only does TopBrokerMatch.com match people with reputable brokers, but it also serves as an informational tool, offering tips and advice to buyers and sellers, as they journey through the road of buying and/or selling a home.
The website is especially beneficial to first-time homebuyers, as this type of buyer is usually the least informed when it comes to the process of owning a home. They may not be aware of the housing market, so they look for bargains, not knowing that they are competing against investment buyers who are also looking for great deals, but who generally have higher incomes, larger down payments, and cash offers, according to the 'California Association of REALTORS®' (C.A.R) "2013 Home Buyer Survey."
With recent bid wars and intense market competition, it is especially important for first-time buyers to stay be up-to-date with current market trends. This is why TopBrokerMatch.com offers free advice and practical tips for those who are looking to buy a home.
TopBrokerMatch.com offers the following 3 tips for buyers:
1-Get your loan pre-approved. While knowing how much you can afford is the first step, sellers will be much more receptive to potential buyers who have been pre-approved. This way, the seller knows immediately that you are a serious buyer.
2- Hire your own real estate agent. Hire an agent who is working for you, the buyer, not the seller. Often, one agent will represent both the seller and buyer. But put yourself in the agent's shoes for a moment: now's your chance to make double commission and your sellers just told you that they went down on their price. What will you do? Will you let your buyers know of the price decrease? Or will you let it slip your mind, and close the deal as is, knowing that your buyers are willing to buy anyway? These and other scenarios can test the integrity of your real estate agent, so skip the dual agent, and get one that's honest and works for you only.
3-Be Objective. Instead of thinking with your heart when you find a home, think with your head. Does this home really meet your needs? Are the rooms laid out to fit your everyday life? Is there enough light? Is the neighborhood great for raising children? How do the local schools compare locally and nationally? These and other practical questions will help you make the best choice when buying your first home.
For more free tips and advice, visit http://www.TopBrokerMatch.com. Browse through the Buyer's Guide and Seller's Guide, which both offer useful information and articles to teach you everything from "How to Negotiate with Sellers" to "Types of Mortgages."
You may also contact Greg Toussieng at info(at)topbrokermatch(dot)com. Also connect with TopBrokerMatch.com through social media. Visit their Facebook page at https://www.facebook.com/TopBrokerMatch, their YouTube channel at http://www.youtube.com/topbrokermatch, their twitter at https://twitter.com/topbrokermatch.
About Top Broker Match:
Top Broker Match is based in Newport Beach, CA, and it is owned by Greg Toussieng. The company is an online business dedicated to matching buyers and sellers with high-quality real estate professionals who have proven track records with excellent client feedback and recommendations. TopBrokerMatch.com is also an informational site that offers free tips and advice to homebuyers and sellers.