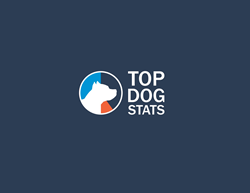 "With Top Dog Stats, we present data using simple visualizations, bringing fun back to statistical analysis."
New York, NY (PRWEB) September 01, 2015
With over 25 years of combined experience, two former NFL analysts, Chris Tanck and Elvis Pereymer, have taken the numbers that confuse even a calculator and developed the most visual, customizable and easy-to-use platform for everyone's Fantasy Football needs. Top Dog Stats is a way for fantasy players of all skill levels to gather and customize all the data they'll need to dominate their leagues.
Before moving on to create Top Dog Stats, Tanck and Pereymer spent the last 17 years working to design and develop a sophisticated analytics platform for the National Football League. Their love and expertise of numbers, statistics and football led them to create Top Dog Stats, a platform dedicated to data visualizations and fantasy sports. Fantasy players know that it's the numbers, stats and a little bit of luck that win the big bucks, which is why Tanck and Pereymer gather all of that information and make it quick and easy to access.
These two analysts have always been the minds behind the madness. Every time the Mind Blowing Stats segment airs on the NFL Network, think Tanck and Pereymer. Throughout all of their years of hard work with the NFL, these two are the pros that can finally provide the best way to access Fantasy Football stats and insider information.
"When it comes to analyzing statistics, a CEO has to put in work. Same holds true for a Fantasy Football player," said co-founder of Top Dog Stats, Elvis Pereymer. "Typically, statistics are presented via Excel spreadsheets, where users miss out on the simple, user-friendly experience. With Top Dog Stats, we present data using simple visualizations, bringing fun back to statistical analysis."
While numbers might come easy to some, for those who are quickly looking for data without all of the hassle, Tanck and Pereymer made it as easy as a few simple clicks. Fantasy players can create custom dashboards with information that's pertinent to them and easily change it with the simple drag and drop of a player. Top Dog Stats makes daily fantasy decisions a cinch and even lets fantasy players send visual representations of trade offers to friends via social media.
Top Dog Stats makes it easier than ever to view when a player's bye-week is, who their opponents will be from week to week and even scoring settings from top fantasy sites like ESPN, FanDuel and DraftKings. To experience the simplicity of Top Dog Stats firsthand, visit http://www.topdogstats.com.
ABOUT TOP DOG STATS, LLC
Top Dog Stats, LLC was founded in New York in 2014 by Chris Tanck and Elvis Pereymer. Tanck and Pereymer are responsible for developing the premier player performance analytic systems currently used by many NFL teams for scouting, game planning and player evaluations. Collectively, they have more than 20 years of NFL data analysis experience. The team is further empowered by former VP of NFL information technology, Joe Manto, who has come on as an advisor. For more information, visit http://www.topdogstats.com.