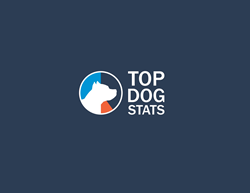 "We developed Top Dog Stats as a platform to provide the best statistics and data that anyone can easily and quickly understand."
New York, NY (PRWEB) August 13, 2015
Top Dog Stats, LLC recently announced the beta launch of its free, visual, customizable and easy-to-use statistics platform for Fantasy Football players. Fantasy players of all skill levels can utilize Top Dog Stats to gather and customize all of the invaluable resources they'll need to dominate their leagues.
Scrolling through lists of player names, numbers and page-long spreadsheets can be time consuming and confusing. Luckily, Top Dog Stats was developed to be a quick, one-stop-shop for fantasy players to gather all of the important information they need in a visual, customizable and easy-to-comprehend way. With Top Dog Stats, players can easily visualize, manipulate and share their own statistics and analysis via social media channels.
Top Dog Stats was created by Chris Tanck and Elvis Pereymer, two former NFL data analysis experts responsible for developing the analytic systems that NFL teams heavily rely on when making draft selections. When it comes to making fantasy selections, Tanck and Pereymer made it as simple as dragging and dropping players to compare and easily view their stats, whether they be completion percentages or offensive scoring potential. Top Dog Stats even lets fantasy players store their data, view it again and change the variables whenever they want.
"We developed Top Dog Stats as a platform to provide the best statistics and data that anyone can easily and quickly understand," said Tanck. "It can be a hassle for Fantasy Football players to have to go back to a stats site and find the information that they need within pages upon pages of numbers. Here, we're giving them professional stats that are accessible with just a few simple clicks."
Top Dog Stats caters to fantasy players of all levels and can help them easily make decisions of who to play, bench or trade. Fantasy Football players can easily view when a player's bye-week is, who their opponents will be from week to week and even view scoring settings from top fantasy sites like ESPN, FanDuel and Draft Kings. While Top Dog Stats focuses solely on the National Football League, the team has plans to launch equivalents for basketball and baseball in 2016. To start utilizing Top Dog Stats' professional football statistics and analytics platform, visit http://www.topdogstats.com.
ABOUT TOP DOG STATS, LLC
Top Dog Stats, LLC was founded in New York in 2014 by Chris Tanck and Elvis Pereymer. Top Dog Stats is a premier game analysis system, and it is used by many NFL teams for scouting, game planning and player evaluations. Collectively, they have more than 20 years of NFL data analysis experience. The team is further empowered by former VP of NFL information technology, Joe Manto, who has come on as an advisor. For more information, visit http://www.topdogstats.com.