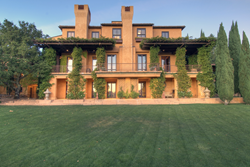 This is the highest sale of residential real estate in Napa Valley's history.
Napa Valley, CA (PRWEB) July 11, 2014
Latife Hayson is Sotheby's International Realty's premier real estate agent in Napa Valley who represents buyers and sellers of Napa Valley's finest estates, vineyards and wineries. On Monday July 7, 2014, Latife, representing the buyer, successfully closed escrow on the spectacular Meadowood Estate, which sold for a record breaking $15 million. This is the highest sale of residential real estate in Napa Valley's history. The Meadowood Estate is an exquisite 45 acre property located within the prestigious Meadowood Resort & Spa, commanding a ridge that overlooks Saint Helena and the Valley floor. The authentic Tuscan villa was designed by architect George Homsey and completed in 2002. The main home is nearly 12,000 square feet, featuring 6 bedrooms, 8 baths and a movie theatre, complemented by a spacious 2 bedroom, 2 bath guesthouse and a caretaker's unit above one of the 2 garages. The Meadowood Estate is powered by solar and has a premium Cabernet Sauvignon vineyard, a pool, tree house, an olive grove and a vegetable garden.
"Napa Valley is synonymous with luxury, sophistication, elegance and culture, and the Meadowood Estate perfectly embodies everything we are known for," said Latife. "I am honored that I was able to participate in the sale of this spectacular property and excited about breaking the record for the highest priced residential sale in the history of Napa. I was fortunate to have co-represented both the sellers and the buyers of the previous highest sale in 2007, which was 20 Campbell Creek, Oakville for $13,950,000.
Latife Hayson has been in the business of real estate for nearly three decades. She started her career as a paralegal specializing in real estate in a large law firm in Sydney, Australia and went on to establish her own international luxury real estate marketing company making many inroads in Asia in the late 90's.
For more information about Latife Hayson, why her clients and other agent's clients respect her, her local information about Napa Valley and her coveted concierge and resource lists, make sure to visit her website and be sure to follow Latife's Blog. To contact Latife personally and to learn more about the record breaking sale of the Meadowood Estate call Latife via phone directly at 707-963-9195, her cell at 707-738-4820 or connect via email at Latife(at)LatifeHayson(dot)com.