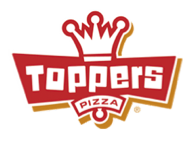 Whitewater, Wisconsin (PRWEB) November 05, 2015
As one of the fastest-growing better pizza brands in the U.S., with plans to have 700 locations in the next ten years, Toppers Pizza continues to rise up from the pack of cookie-cutter corporate pizza chains by its commitment to brand innovation. Toppers' most recent advances include a revamped consumer website, a new franchise development website and a from-scratch training program, all of which will best position the brand for consumer satisfaction and unit growth.
With nearly 40 percent of system wide orders being placed through the website, up 10 percent from 2014, the Toppers team overhauled its consumer website to deliver a better, faster and more engaging user experience. Backed by a customer-friendly and responsive design, the new website has streamlined the ordering process for customers who purchase from their mobile or online devices, resulting in a 7.9 percent increase in sales and a 25 percent decrease in user clicks since it launched in early August.
With this increase in orders comes an increased need to perfect operations on the store level, starting with the Toppers training program. Unsatisfied with the template training programs used by others in the industry, Toppers built its training website and software from scratch. Now, every franchisee, manager and employee will have the support they need to succeed through Toppers University, set to launch in December.
An interactive and entertaining experience, the new e-learning management system will provide training and advice with a blended learning approach that includes a mix of checklists, hands-on training, videos and tests. The new site lays out a clear path, ensuring that the training each Toppers team member receives is consistent across the board. Matt Martin, director of training at Toppers Pizza, said the site provides high-level instruction with all the necessary resources to be great and adhere to The Toppers Way.
"Anything good or bad that happens in any restaurant can be linked back to training," said Martin. "The detailed training we provide at Toppers has a butterfly effect on everything and gives us the best shot at being successful in all that we do."
In addition to its consumer website and training program, Toppers has also revamped its franchise development website, with a focus on attracting experienced and committed multi-unit franchisees. The site now features a store tour video that offers an inside look inside the Toppers experience.
With its recent innovations to improve customer service, operations and franchise development, and its 100th location set to open in 2016, Toppers is well on its way to reaching its goal of 700 locations within the next 10 years. To do so, the franchise development team is targeting new franchisees in a number of markets across the country that are looking for a lucrative investment opportunity. Scott Iversen, vice president of marketing at Toppers Pizza, said the brand wants to attract franchisees with proven experience in the restaurant industry that want to help grow the brand from a regional chain to a national player.
ABOUT TOPPERS PIZZA
Capitalizing on the booming better pizza category and fueled by the passion of Founder & President Scott Gittrich and a team of experienced industry veterans, Toppers Pizza has formulated the perfect recipe to appeal to both pizza enthusiasts and savvy investors. Headquartered in Wisconsin, Toppers is one of the fastest growing better-pizza chains in the United States. The brand has doubled in size over the last three years and completely sold out three states based on growth spurred by both existing franchisees and established multi-unit operators. Now with restaurants in 11 states and with territories immediately available across the country, Toppers plans to reach 700 stores in the U.S. within 10 years. Toppers is committed to quality and consistency throughout the system, and plans to maintain corporate ownership of 25 percent of all locations while the brand expands to continuously improve on best practices and product development. Toppers fanatics love the brand's fresh, handmade and customizable pizza baked in about 6 minutes and delivered extremely fast, with more than a million combinations of fresh, high quality toppings, and the brand's signature line of flavored Topperstix and baked Buffalo wings. In 2014, Entrepreneur Magazine ranked Toppers as one of the top 500 franchises in the U.S and QSR Magazine listed the company as one of the year's Best Franchise Deals. For more information on how to join the rapidly growing Toppers family and for a sneak peek into the Toppers experience, visit http://www.toppersfranchise.com/.
# # #