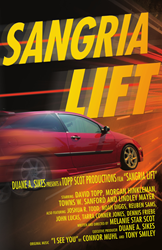 Nothing Is As It Seems
Hollywood, California (PRWEB) May 27, 2015
In the newest film from Topp Scot Productions, Director Melanie Star Scot answers the question: 'What if your car could talk?' Or maybe a better question: 'What if your car could talk after it was stolen and missing for 3 days?' That is only the beginning of the complex storyline in this movie about a car named "Sangria".
The film was shot in Jacksonville, Florida and Asheville, NC, but Scot received the inspiration for the film Sangria Lift after her son's car was stolen near Los Angeles in 2013. According to David Topp, all of the important and significant events of his life had happened in that car, being that it was his first. From a teenaged boys' perspective, losing it was beyond the loss of a mechanical conveyance. To add another layer to the story, David Topp had an additional, emotional connection to his car, (a secret that will be revealed in the film). Even though there were naysayers telling him that the car was stripped for parts, sitting up on blocks and gone for good, Topp struggled to maintain the faith that his car would be recovered. "She's my car." Topp said. "She's coming back to me." Ultimately and miraculously, the real "Sangria" was recovered 3 days later, undamaged and with only the change out of the ashtray having been taken.
ANSWERING WHAT IF?
While Scot was relaying this story to a family friend, the friend remarked: "If only that car could talk! I wonder whose lives it touched while it was gone?" That statement inspired Scot to write a script that is not just about a stolen car but a heart-grabbing "6 degrees of separation" story about perceptions and perspectives that involves many unexpected characters and several gut-wrenching twists and spins that make Sangria Lift one wild ride from beginning to end.
Sangria Lift is the 3rd film from the award-winning partnership of Executive Producer Duane A. Sikes and Topp Scot Productions. It stars Hollywood award-winning actor David Topp ("The Box", Hallmark's "The Shunning" & "Our Father" which just screened at Cannes). It also stars rapidly-rising young star Morgan Hinkleman ("Revolution", "Sleepy Hollow", "Identify Thief" and "Halt & Catch Fire"), and Lindley Mayer ("Glee", "The Walking Dead"). Of special note is the powerful and emotional performance delivered by newcomer Tarra Conner Jones.
Sangria Lift recently had a private, invitation-only red carpet premiere with a crowd of about 250 people. Many of the rave reviews are available on their Internet Movie Database profile as well as their Facebook page. "The reviews exceeded my highest expectations" says Scot. "To know people "get" your story and are so deeply affected by something I wrote is simply a filmmakers dream."
ABOUT THE DIRECTOR
Scot did not begin filmmaking until the age of 49 and this is her third film in 3 years. In April 2015, she was nominated as "Best Local Filmmaker" in the entertainment magazine "Mountain Xpress". Her first film, The Box (2013) won several awards, including a Bronze Telly award, a Hollywood Best Actor award for lead actor/co-producer David Topp, a Best Costuming Award and it has been contracted to air on national television on the ShortsHD TV Channel on DirecTV for three years. These are all stellar successes for any Director. Sangria Lift is on the starting line, ready to surpass them all.
A full profile of the film can be found on Film Freeway at: https://filmfreeway.com/projects/412795
# # #