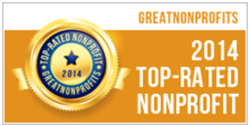 TisBest has hit upon a formula that really works wonders in so many ways.
Seattle, Wash. (PRWEB) January 20, 2015
TisBest Philanthropy announced today that the organization has received the 2014 Top-Rated Nonprofit Award from GreatNonprofits.org, the leading review site for nonprofit organizations. This is TisBest Philanthropy's third consecutive award for nonprofit excellence from GreatNonprofits.org.
"We are honored to be recognized as a 2014 Top-Rated Nonprofit," says Jon Siegel, Executive Director of TisBest. "It is incredibly rewarding to know that the businesses and individuals who purchase and receive TisBest Charity Gift Cards believe in our mission as much as we do."
The Top-Rated Nonprofit award is based on positive reviews of TisBest Philanthropy – reviews written by charity gift card purchasers, spenders and other charities who receive the funds.
One charity gift card purchaser wrote, "TisBest has hit upon a formula that really works wonders in so many ways. It has enabled me to 'give the gift of giving' not only to show appreciation (teacher gifts) and honor (Mother's Day gifts), but also to use as a teaching tool (holiday gifts for my children, nieces, nephews, who then learn about philanthropy by choosing their own charities). The fact that TisBest has connected with such a great variety of charities makes it easy to know that no matter who I give a gift card to, she will find a charity that is meaningful to her."
Being on the Top-Rated list gives TisBest Charity Gift Card purchasers confidence that TisBest adheres to strict standards of excellence. The community-curated Top-Rated Award reflects the nonprofit's consistently high standing within the donation gift arena.
About TisBest Philanthropy
TisBest Philanthropy is a 501(c)(3) nonprofit organization dedicated to fostering the growth of non-material gift-giving. TisBest created charity gift cards in 2007. Charity gift cards work like conventional gift cards, but with one important exception: the recipient of a charity gift card "spends" it by choosing a charity to receive the funds. Learn more at http://www.tisbest.org.
About GreatNonprofits
GreatNonprofits is the leading site for donors and volunteers to find reviews and ratings of nonprofits. Reviews on the site influence 30 million donation decisions a year. http://www.greatnonprofits.org