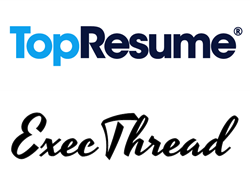 NEW YORK (PRWEB) July 08, 2020
TopResume, the largest resume-writing service in the world, today announced a partnership with ExecThread, the largest global aggregator of unpublished executive-level job opportunities.
TopResume writes and analyzes millions of resumes and LinkedIn profiles through their network of professional resume writers. Combined with feedback from resume-scanning software that analyzes keywords and formatting — similar to employers' applicant tracking systems (ATS) — TopResume will optimize ExecThread members' resumes for maximum effectiveness.
"ExecThread is excited to partner with TopResume to provide our members with access to the highest-quality, resume-review service," said Joe Meyer, CEO and founder of ExecThread. "In addition to discovering the best executive-level job opportunities through ExecThread's unique crowdsourcing approach, our members can now better position themselves for the best senior roles in today's challenging labor market by tailoring their resume with expertise from TopResume's industry-leading resume-review service."
Making executive-level roles equally accessible to all qualified professionals, ExecThread offers a curated marketplace of crowdsourced career opportunities that are contributed by nearly 50,000 high-caliber professionals worldwide. ExecThread's members can discover new career opportunities more effectively than today's executive-level job search allows because they have access to job openings that aren't publicly posted.
"Landing your dream job comes down to uncovering the right opportunity and having an unparalleled resume," said Todd Goldstein, Executive Vice President, Strategy & Business Development for Talent Inc., the parent company of TopResume. "We are excited to partner with ExecThread which helps level the playing field for senior-level job seekers, while we help their members get a leg up on the competition by helping them develop an attention-grabbing resume."
ExecThead is now among more than 350 international partners of TopResume, which will continue to announce additional collaborations with industry-leading companies in the coming months. To become a partner, visit talentinc.com/partnerships/.
About TopResume:
TopResume, a Talent Inc. company, is the world's premier resume-writing service, analyzing millions of resumes and LinkedIn profiles each year. Job seekers work directly with professional writers and industry experts to redefine their personal brand and stand out from the crowd during the job-search process. Follow TopResume on Facebook, LinkedIn, Twitter, and Instagram.
About ExecThread, Inc.:
ExecThread, Inc. is a premium job-sharing network and crowdsourcing platform that enables professionals to access the 'hidden job market'. ExecThread is the largest global aggregator of unpublished executive-level job opportunities. By crowdsourcing confidential executive-level jobs and board of director opportunities, ExecThread brings transparency to the executive search market, thereby creating more access for all qualified candidates. ExecThread believes that senior-level roles should be accessible to all qualified professionals, not just a chosen few. Our curated community of nearly 50,000 high-caliber members, 50% of whom are underrepresented, connects professionals from all backgrounds with the best executive-level career opportunities and top hiring companies. ExecThread® is free to join.