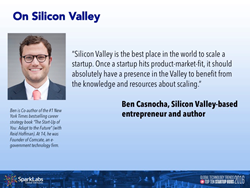 (PRWEB) November 04, 2016
SparkLabs Global Ventures has release their annual research study on the top ten startup ecosystems in the world. The following cities were recognized as a "top ten" startup hub: Silicon Valley, Stockholm, Tel Aviv, NYC, Los Angeles, Beijing, Seoul, Boston, London, and Berlin.
The venture capital firm looked at eight factors: Funding Ecosystem & Exits, Engineering Talent, Active Mentoring, Technical Infrastructure, Startup Culture, Legal & Policy Infrastructure, Economic Foundation, and Government Policies & Programs.
Of the eight factors they considered to reach these scores, some are "soft" factors that are difficult to quantify but that have real consequences. Trust and chemistry between members of a founding team, for example, is very difficult to quantify, and yet breakdown of trust and chemistry is the cause for at least a quarter of all startup failures.
Bernard Moon explained, "Probably the most important factor on this list is a soft factor — 'active mentoring' or a 'pay it forward' culture. This has been cited numerous times as the 'secret sauce' of Silicon Valley and why its startup environment is so difficult to replicate. Even if you drive a few hours south to Los Angeles, the business culture is worlds apart. People tend to guard their contacts and rolodexes more than the free-sharing culture of Silicon Valley."
This is a reason why the study focused on urban ecosystems and cities, not countries, because the startup cultures between two cities in the same country can be night and day.